Print this Page
Gardeners Urged To Help Save Endangered Wildlife
SCOTLAND
19 December 2005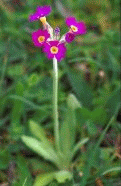 Everything in the Scottish garden is far from rosy. Botanical experts are urging green-fingered homeowners to help save endangered native species.
A range of native Scottish wildflowers are under threat from the effects of climate change and habitat destruction.
Now the Royal Botanic Garden Edinburgh, Scotland's leading plant conservation centre, wants gardeners to plant colourful species such as the Scottish primrose, yellow rattle and herb Paris to save them for future generations.
Peter Brownless, a RBGE garden supervisor, said many native species needed a helping hand. "Some of the endangered species are lovely little plants which stand a chance of being cultivated in a variety of places from window boxes in the inner city to suburban gardens," Brownless said.
"Many people have flowers in their gardens from all over the world but I am sure they would jump at the chance of cultivating their own native species."
The Scottish primrose, Primula scottica, was once common in mountainous areas throughout the UK, but a warming climate has driven its location northwards. The tiny purple flowers can now only be found on sea cliffs on the northern coast.
The yellow rattle, Rhinanthus minor, was also once widespread in lowland Scotland but is now found only on certain small sites because of the destruction of its meadow habitat.
 
Find Out More
The National Council for the Conservation of Plants and Gardens
The NCCPG supports 650 collections in Britain of cultivated (garden) plants, by encouraging (through it's members) the propagation and conservation of endangered garden plants in the British Isles (both species and cultivars). The remit includes research, history, cultural background, and education.
PlantNetwork
PlantNetwork, is the Britain and Ireland network of botanic gardens, arboreta and other documented plant collections. Acitivites include promoting botanical collections in Britain and Ireland as a national resource for research, conservation and education.
Plantlife - The Wild Plant Conservation Charity
Plantlife is the only charity working solely to protect Britain's wild flowers and plants, fungi and lichens, and the habitats in which they are found. There are many great ways for everyone to get involved in plant conservation on their website. Click the link to find out more.