Sex and Death in Sydney
AUSTRALIA
6 December 2005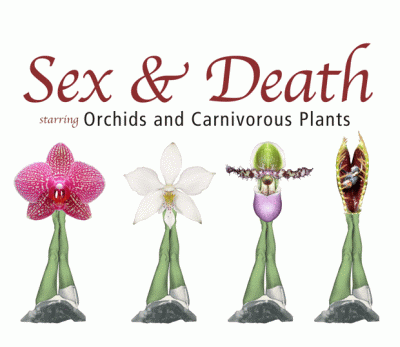 Botanic gardens are renowned for their peace and tranquillity yet as Sam Llewellyn wrote in his thriller The Sea Garden: '... in gardens, beauty is a by-product. The main business is sex and death ...'
Soon after he started work at the Royal Botanic Gardens, Executive Director Dr Tim Entwisle educated us about "The nightlife of plants: sex and other perversions" and, thanks to a generous donation from the Friends of The Gardens, the Botanic Gardens Trust is about to explore fundamental biological processes once more in an exciting new exhibition that opened on Thursday 1 December 2005 in the Sydney Tropical Centre.
"Sex and Death: starring orchids and carnivorous plants" will tell the story of plant sex by exploring the fascinating pollination mechanisms of orchids, one of the largest and most complex families of plants. The concept of death is a great excuse for the garden to display its extensive nursery collection of bizarre-looking carnivorous plants.
The relationship between orchids and their pollinators (which, surprisingly to some people, includes humans!) is interpreted in three themes: 'Seduction', 'Cooperation' and 'Deception'. The existing greenery in the Arc of the Sydney Tropical Centre creates the backdrop when over 2000 orchids from our nursery take centre stage as each of them comes into bloom. They will be supported by a cast of hands-on interactives, video footage and colourful informative signage. The fourth theme, 'Death', predominately features carnivorous plants surrounded by dark and shadowy imagery.
"Sex and Death" is not a typical orchid show with masses of orchid hybrids creating a riot of colour. Instead it's an entertaining and educational experience showcasing, at any one time, approximately 100 orchids and carnivorous plants including the lesser known and more diminutive varieties. Australian orchids and the Trust's orchid research also feature strongly. Visitors will be encouraged to come again and again to see the different species on display as they come into flower throughout the year.
The exhibition is planned to last for three years, and there will be something for everyone. Members of orchid societies and nurseries have made invaluable contributions in the planning stage of this exhibition and have agreed to continue their support through regular potting demonstrations and sales. Our Volunteer Guides will lead tours and give visitors deeper insight into the exhibition through interesting plant stories, and the Community Education Unit is working on a curriculum-linked program for schools.