Gateway Link To Nurture Scottish Talent For Biodiversity
SCOTLAND
5 December 2005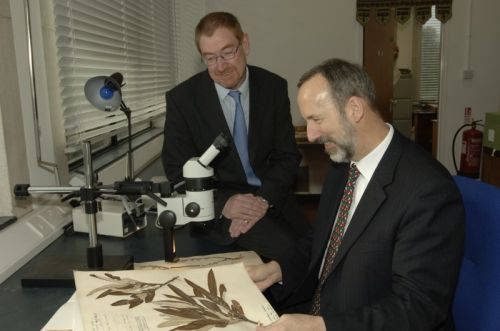 Two leading scientific research institutions are forging fresh links in a bid to ensure Scotland sustains its capacity to deliver world-class expertise for global conservation, by inspiring more young people to consider a future in plant science. In the face of unprecedented environmental pressures and with a third of all plant species under threat of extinction this century, the Royal Botanic Garden Edinburgh (RBGE) and University of Edinburgh have announced the collaboration to be based at the £14 million 'Gateway' National Biodiversity Interpretation Centre.
RBGE Regius Keeper Professor Stephen Blackmore and Regius Professor Karl J. Oparka, of the University's Institute of Molecular Plant Sciences, have outlined proposals for the partnership which will focus on wider interaction with the public than has previously been possible for either organisation. As part of this communication, they aim to promote their science as a career opportunity.
"The great challenge of the 21st century is to identify sustainable ways of using our planet's resources", explained Professor Blackmore. "The Gateway initiative has always been about communication and inspiring the public to play their part by facilitating likeminded organisations under one roof. This strengthening of links with the university is particularly sensible as there are already common bonds. Indeed, the roles of Regius Keeper and Regius Professor were a combined responsibility until 40 years ago and the two institutions continue to run a successful MSc course in the Biodiversity and Taxonomy of Plants, as well as benefiting from shared research posts. We cannot afford to miss this crucial new opportunity of inspiring a new generation of plant scientists."
His comments were echoed by Professor Oparka: "We need to address a situation where plant sciences commonly lose out to the seemingly more exciting animal sciences, and it's up to us to articulate more about what we do, why it is vital to the world in which we live and how plant-based research is both vital and stimulating", he said. "Plants are an enormous part of our environment - both in terms of agriculture and biodiversity and it is the combined aim of our two institutions to engage the general public in all matters concerning the essential roles of plants in our lives. The Gateway has the potential of providing the university with a valuable opportunity to interact with the public generally and, crucially, to inspire young people to find out more about opportunities in science."
Due for completion in 2009, the Gateway, at the West Gate of RBGE's Inverleith Garden, will be a window on the world of biodiversity and related issues, such as climate change. It will offer live interpretation, personal interaction and a range of media suitable for all ages and abilities. Designed, built and run to be a model of sustainability, the building will provide free access to upwards of one million visitors a year.