New Botanic Garden For Bhutan
BHUTAN
3 November 2005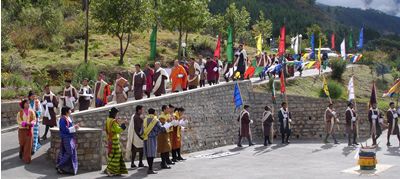 In yet another historic event in the conservation history of Bhutan, the Royal Bhutan Gene Bank, National Herbarium and the Royal Botanical Garden of the National Biodiversity Centre, Serbithang under the Ministry of Agriculture were inaugurated by the H.E. Honorable Prime Minister and Minister for Agriculture, Lyonpo Sangay Ngedup on the auspicious day of 26th October 2005.

Venerable Dorji Lopen from Zhung Dratsang, Honourable H.E. Lyonpo Ugyen Tshering, Minister for Labour and Human Resources, H.E. Mr Sudhir Vzas, Ambassador of India to Bhutan, Honourable Dasho Kalyon, RAC, Honorable Secretary, Cabinet and Honorable Secretary MoA, other senior officers and development partners and more than a hundred RNR family members gathered at National Biodiversity Centre, Serbithang to attend the inauguration in Serbithang, 15 miles south of the Himalayan country's capital.
The Chief Guest Lyonpo Sangay Ngedup in his inauguration address pointed out that the importance of biodiversity in cultivated species is deeply rooted in Bhutanese culture. For example, the seeds of the nine essential species (DRUNA GU) including rice, wheat, barley, buckwheat, millet, amaranths, maize, mustard and pulse are used in many religious offerings. The wide range of climatic conditions and altitudes has allowed Bhutanese to grow different varieties of crop species, which are ecologically well adapted to the local environment. About 79% of people in the country are dependent on agriculture and livestock for their livelihood. Agro-biodiversity is thus the backbone of Bhutan's national economy.
Honourable Lyonpo also pointed out that the biological diversity (both wild and domesticated) is vital to the development and welfare of humanity. Bhutan has been identified as one of the ten hot spots of biological diversity in the world. Bhutan's royal ruler stipulated in 1974 that Bhutan's conservation policy was to retain 60% forest cover for all time. Bhutan currently has 72.5% forest area with about 7000 species of vascular plants, 770 species of birds, and 167 species of mammals.
The Royal Botanical Garden, which is at the initial stage of its development, is to act as a recreational centre, and provide information on plants to students, botanists and researchers. In addition, the Royal Botanical Park at Dochula is being developed in order to provide a comprehensive picture of Bhutan?s rich floral diversity.
"With the opening of the Botanical Garden at Serbithang to the general public today, I would like to urge every Bhutanese to plant at least 3 trees each year and motivate at least 3 associates/friends to plant trees because trees are precious and best friends of human beings". Honorable Lyonpo said.
In his welcome address, the Honorable Secretary Dasho Sangay Thinley, Ministry of Agriculture, said that with the ratification of CBD, Bhutan has developed its Biodiversity Action Plan with strategies for conservation and use of biological resources. To improve the nation's efforts towards a mechanism for biodiversity conservation, the National Biodiversity Centre was formally established in 1998 as a non-departmental agency with the mandate to coordinate biodiversity conservation activities and oversee the implementation of the Biodiversity Action Plan. Dasho also added that such institutionalization was felt necessary as the biodiversity related responsibilities in Bhutan were scattered among different institutions often causing overlaps in activities and difficulties in planning and co-ordination.
The project outputs are intended to be:
* Construction of a new herbarium building with basic facilities including a library.
* Completion of the Flora of Bhutan including Orchids of Bhutan.
* Flora of Bhutan database.
* HRD: MSC in botany, five short courses in Herbarium Management, plant conservation and flora database.
The BTF and the Royal Botanic Garden Edinburgh and Tsukuba Botanic Garden funded the establishment of the Royal Botanical Garden.