A Force for Change and a Vision of Hope
8 February 2007
LONDON, UK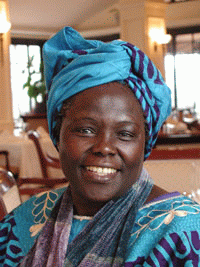 Thursday 8 February 2007 19.00-20.00
The Royal Geographic Society, 1 Kensington Gore, London SW7

Professor Wangari Maathai is the Founder of the Green Belt Movement in Kenya, a grassroots organization that has worked with women's groups to plant more than 30 million trees.
She is the first African woman to be honoured with the Nobel Peace Prize and was named in 2005 by Time magazine as among the 100 most influential people in the world and by Forbes magazine as one of the 100 most powerful women in the world.
Professor Maathai is a powerful advocate of grassroots activism. Join us for what promises to be a stimulating and inspiring evening as Wangari Maathai shares her unique experiences in creating huge social and environmental change through grassroots activity and in the face of heavy opposition.

If you have any queries about this event, please email events20@bgci.org

 
Find Out More
One Billion Trees Campaign
The United Nations Environment Programme (UNEP) has launched a worldwide tree planting campaign. Named the "Plant for the Planet: Billion Tree Campaign", people, everywhere, from industry, governments and the street are being encouraged to enter tree planting pledges on this website.
Wangari Maathai and the Green Belt Movement
Wangari Maathai is internationally recognized for her persistent struggle for democracy, human rights, and environmental conservation. The Green Belt Movement (GBM Kenya) is a grassroots NGO based in Kenya that focuses on environmental conservation, community development and capacity building.