3rd International Orchid Conservation Conference
This posting is no longer current. Please check out our Events & Meetings for the latest postings.
19 - 23 March 2007
Costa Rica
The Lankester Botanical Gardens and the University of Costa Rica have announced the III International Orchid Conservation Congress (III IOCC) which will be held from the 19th to 23rd of March 2007, in San José, Costa Rica. It is preceded by the Costa Rican National Orchid Show - March 15-18, 2007.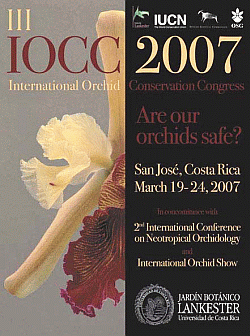 The 3rd IOCC promises to be once-in-a-lifetime experience. Not only will participants enjoy a rare opportunity to both hear lectures by, and rub shoulders with, some of the most important scientists in the orchid world today, the conference is being held in one of the world's most beautiful and biodiverse countries.

Sponsored by the Orchid Specialist Group of the World Conservation Union (IUCN), such congresses are arguably the most important international events on the orchid conservation calendar. IOCC III will provide a global forum for the orchid scientific community to share its knowledge, experience, practice and research in orchid conservation.
The event has already attracted many distinguished speakers from around the globe, and promises an exciting scientific program including presentations, workshops and a field excursion to Tapantí National Park to see orchids in their natural habitats. The event will open with a talk by Dr. Daniel Janzen, one of the most outstanding scientist - and an exceptional environmentalist and visionary.

There are possibly more species of orchid per square kilometer in Costa Rica than in anywhere else on the planet, and the conference provides an ideal opportunity to enjoy the amazing biological diversity found within an unparalleled mosaic of different habitats within this most beautiful country. Since the real struggle for orchid conservation will be won or lost in the tropical areas of the world, I think Costa Rica will be an excellent and appropriate venue for the next IOCC.
Themes of the IOCC III:

Theme A: Are our orchids safe?
Theme B: Geography of Conservation
Theme C: Economics of Conservation
Theme D: Conservation Policies and Botanical Gardens
Theme E: Conservation and Information Technologies
Theme F: New Technologies for Conservation and DNA Barcoding
Theme G: Practical Orchid Conservation: Integrated Approaches

Workshops
Population studies, Reintroduction, Modeling, GPS and plants data. Workshops will include field activities.
Opportunities
Please visit our website for further information about this event and the Student Sponsor Program intended to support young researchers and conservationist from undeveloped countries in the tropics who lack the means to attend this important event.

We are also looking for potential speakers for the session "Orchid conservation policies and botanical gardens" so please contact us if you are interested.