BGCI Worldwide
> China Takes Action to Halt Looming "Biodiversity Crisis"
China Takes Action to Halt Looming "Biodiversity Crisis"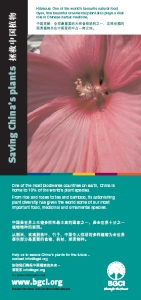 With its remarkable diversity of wild flora under threat from explosive economic growth, this week China announces a radical new 'National Strategy for Plant Conservation'.

Coming in the face of what scientists are calling a "burgeoning ecological crisis", this landmark strategy aims to halt China's continuing loss of plant diversity, helping safeguard the future of some 5,000 threatened plant species. The plan brings together 3 state agencies - for the first time - to create a uniquely coordinated, 'whole country' approach to plant conservation in China.
Downloads

Press Release - Word Doc (406 KB)
Summary of the Strategy - Word Doc (1.3 MB)
Promotional leaflet - PDF (246 KB)


BGCI Projects in China
BGCI has been working with botanic gardens for plant diversity in China for the past five years, under the auspices of HSBC's Investing in Nature programme.
  
Find Out More
East Asia Botanic Gardens Network
This webpage presents the EABG proposal in Chinese, Korean, Japanese and English; seeks comments on it; provides links to all relevant East Asia botanic garden websites, and provides the 2010 targets for botanic gardens in relation to the Global Strategy for Plant Conservation.
Flora of China Online
Efloras brings together electronic floras into an online interface. Users can browse online floristic treatments by volume, family, and genus, and can search by name, distributional data, and text. With the use of web forms, editors and authors with permissions can correct and update the data.