New Appointments
USA
26 February 2007
Cleveland Botanical Garden Appoints New Director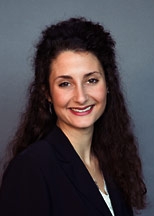 Natalie Ronayne has been appointed as executive director of The Cleveland Botanical Garden, after a nationwide search. Ronayne, 32, has served as acting director since last fall, when former director Brian Holley left to take over management of the Naples Botanical Garden in Florida.
Board President Ruth S. Eppig said: "In addition to a longstanding passion for the Garden's mission of urban greening, education and conservation, Natalie possesses strong administrative and financial skills and a significant knowledge of the community, its residents, its public officials, and those of us dedicated to plants, the environment, and making Greater Cleveland the best place in the country to work, study, and play."
Ronayne was formerly the director of the city of Cleveland's Parks, Recreation and Properties Department, where she helped to secure over $8 million in federal and state grants for neighborhood and regional park projects.
"I am thrilled," said Ronayne, "to be doing what I love with such a creative, devoted group of people. The Garden is an inspiring place with an important role, which is to use plants to improve our lives and the health of our city and planet."
Read more on the Cleveland Botanical Garden website...
Chicago Botanist to head up Lyon Arboretum in Hawaii
The University of Hawaii at Manoa has selected a Chicago botanist as the new director of the Lyon Arboretum.
Christopher Dunn, currently executive director for research programs and Smith family curator of native habitats at the Chicago Botanic Garden, will assume his new position in April, according to a UH-Manoa news release.
"Dr. Dunn is a nationally respected leader in this field, and I'm confident that he'll be a tremendous leader to our staff and dedicated corps of volunteers," said Gary K. Ostrander, Manoa vice chancellor for research, in a written news release.
Dunn was selected after a national search. He received his bachelor's degree in botany from the State University of New York College of Environmental Science and Forestry, a master's degree in plant ecology from Indiana State University at Terre Haute and his doctorate in plant ecology from the University of Wisconsin at Milwaukee.
The Harold L. Lyon Arboretum in Manoa is home to a collection that includes introduced and native Hawaiian plants. Its facilities are used for research and child and adult educational programs.

New Fundraiser for Santa Barbara Botanic Garden

Meanwhile, Joshua Chan has been named director of major gifts at the Santa Barbara Botanic Garden. In his position, Chan will work closely with donors and play an integral role in fundraising efforts that support the garden's research, education, horticulture and conservation programs.
A graduate of UCSB with a master's degree in public administration, Chan served as gifts and grants manager for Elings Park Foundation before his appointment at the Botanic Garden.
New Director for Heathcote Botanic Garden
This month, Amy Dahan officially became the interim director of Heathcote Botanical Gardens, a 21-year-old oasis of lush greenery and colorful flowers on Savannah Road.

Dahan takes over the reins (more like a shovel, really) as a huge expansion project is pondered by the gardens' staff and board — not to mention the city and county governing boards that would have to bankroll much of the project.
Amy said of her plans for the 5-acre garden: "I'd like to see us try to bring more children and families to the gardens with programs like the children's vegetable garden we started. And I'd like to see us bring in more handicapped people and let them experience gardening."
"We also have a vision of an expansion to create a huge urban park for the Treasure Coast."

Botanic Garden Finally Gets Land for Botanic Garden
After three years of working with Santa Fe city government to find a suitable garden site, the Santa Fe Botanical Garden have entered into a 30-year lease— at $1 a year— in January for an 11-acre plot of city-owned land west of Museum Hill. The agreement brings to an end 20 years of searching for Botanic Garden without its own botanical garden.
The 400-member group of gardeners, botanists and individuals interested in the environment manages two natural areas, in wetland and mountain habitats, but they've never before had a location for planting a traditional botanical demonstration garden.

"This is a huge step for the organization," said executive director Linda Milbourn. "The garden will show people the versatility and attractiveness of native plants."
They are not allowed to construct any buildings, although sign posts and small sitting areas will be set up above the flood plain. According to the lease agreement, the group will foot the bill for all improvements made to the land.
"We agreed that if we ever parted ways, we are allowed to transplant established botanical collections," Milbourn said. "This is crucial because it's possible that some of our plant collections could have horticultural importance that would be lost if we didn't take the plants with us."