US Botanic Garden Celebrates Newest Addition
WASHINGTON DC, USA
10 October 2006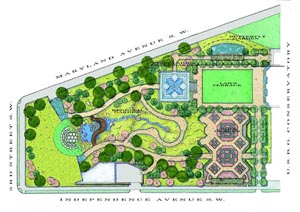 On Sunday, October 1, 2006, the gates swung open to welcome visitors to the newest garden on the National Mall in Washington DC. The National Garden at the United States Botanic Garden (USBG) is located on the three-acre site adjacent to the USBG Conservatory at the foot of Capitol Hill. Authorized by Congress, the National Garden is a public-private venture built with funds raised by private citizens, corporations, and garden clubs from across the nation. Visitors exploring the pathways of the National Garden will find six distinct features:
* The Lawn Terrace is a formal space that links the USBG Conservatory to the new outdoor garden.
* The Rose Garden celebrates our national flower by showcasing more than 100 roses selected from the eight classes of roses grown today. The garden's purpose is to feature the breadth of rose diversity as well as high-performing roses that grow well in the heat and humidity of the Mid-Atlantic region and that are not chemically dependent.
* The Butterfly Garden presents a wealth of colorful nectar plants to lure local and migrating butterflies (and other pollinating insects), underscoring the importance of pollinators in maintaining diversity in North American plant communities.
* The First Ladies' Water Garden is an elegant feature designed to honor our nation's First Ladies and the contributions they have made to American society. The garden is created from five shades of granite and bluestone. Paying tribute to America's first First Lady, the intricate patterns of the fountain are inspired by "Martha Washington," a Colonial-era quilt pattern.
* The Regional Garden is a large planting of native perennials, shrubs, and trees flanking a naturalistic stream that flows through the center of the National Garden. Care has been taken to accurately represent some of the many habitats and plant associations found in the Coastal Plain and Piedmont regions of the Mid-Atlantic states. Naturally occurring plant varieties with wildlife value are well represented.
* The open-air amphitheater is an outdoor gathering place for educational programs. Located at the western end of the National Garden, the amphitheater affords visitors a breathtaking view of the U.S. Capitol. Concentric rows of seats are capped by white marble that originally formed the steps and terraces on the East Front of the Capitol.
For more information about the National Garden, visit http://www.usbg.gov/gardens. The USBG Conservatory and the adjacent National Garden are open to the public, free of charge, every day from 10 a.m. to 5 p.m.