Botanical Garden Hosts Climate Change Symposium with Al Gore
NEW YORK, USA
15 September 2006
Leading scientists and experts on the critical issue of climate change will present the latest data and interpretations in a special half-day, public symposium in Manhattan, followed by a panel discussion of compelling scientific issues facing life on Earth. The morning concludes with a keynote address delivered by the Honorable Al Gore, former Vice President of the United States and author of An Inconvenient Truth. The symposium will be held on Friday, September 15, from 9:30 a.m. to 12:30 p.m., in the Auditorium at the AXA Equitable Center, 787 Seventh Avenue, New York City.
Click here to register for the free live webcast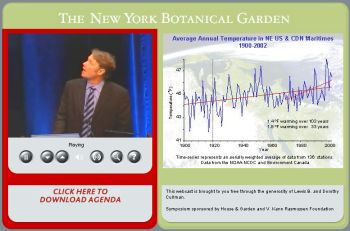 You can view the symposium taking place in the webcast live

The symposium, "Climate Change: Prospects for Nature," has been organized by The New York Botanical Garden and Dr. Thomas Lovejoy, editor of Climate Change and Biodiversity, an important work that summarizes the most recent scientific research and current thinking on global warming.

Director of The New York Botanical Garden Kim Tripp observes, "We're approaching this topic in the positive spirit of promoting professional discussion and public dialogue. The symposium will focus on the science behind this serious environmental problem and the significant opportunity it poses for humankind right now. We hope to raise awareness and stimulate future discussion by clearly presenting what is known and not known and assisting in efforts to develop an effective response to climate change phenomena."

During "Climate Change: Prospects for Nature," eminent scientists will present fresh, relevant scientific data; panelists will provide context and perspective; and Mr. Gore's keynote address will set forth powerful evidence that this bout of climate change is not merely part of natural cycles.

The symposium, which is sponsored by House & Garden and the V. Kann Rasmussen Foundation, will draw attention to the serious need for dissemination and discussion of scientific knowledge in order to advance international, national, and local climate change efforts.
The New York Botanical Garden is an advocate for the plant kingdom. The Garden pursues its mission through its role as a museum of living plant collections arranged in gardens and landscapes across its National Historic Landmark site; through its comprehensive education programs in horticulture and plant science; and through the wide-ranging research programs of the International Plant Science Center.