Botanic gardens and education
Education programs at botanic gardens are invaluable in raising awareness of plant conservation issues and promoting the importance of plant conservation in sustainable development. BGCI and its member botanic gardens use a diversity of programs reach a wide range of constituents, including children, adults and professional educators. (Click here to see podcasts of Dr. Amy Ryken's research on botanical conservatories as centers for science education.)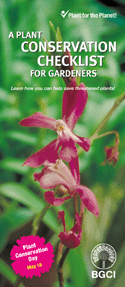 Some of BGCI's education programs can be found following the links below.

Plant conservation classroom module: Designed with input from the U.S. environmental education community, this module allows middle school classroom teachers to enhance their existing curricula with a week-long module focused on plant conservation, including ways to incorporate a visit to a local botanic garden. This program is in the evaluation stages, but is available in draft form here.

Plant conservation discovery cart: Discovery carts are a common education vehicle at botanic gardens and other environmental education sites. The plant conservation discovery cart includes a series of activities that focus on the importance of plants and the need for their conservation. Click here to download the lesson plan and for more information.
Plant for the Planet! BGCI (U.S.)'s first public awareness campaign promotes everyday actions home gardening enthusiasts can take to help save plants. The campaign includes the free publication, A Plant Conservation Checklist for Gardeners (PDF file, 486kb); a comprehensive Internet resource for home gardeners (www.plantfortheplanet.org); and an adult education course focusing on plant conservation.
Online resources for living institution educators: Resources for educators at botanic gardens, zoos, nature centers, and other living institutions focusing on conservation education can be found on BGCI's international education website, www.bgci.org/education.
Education E-update: Every month, living institution educators and others interested in plant-based education receive Education E-update, a free email newsletter featuring the latest in plant conservation education news from BGCI. Click here to subscribe to Education E-update. Click here to browse previous issues of the newsletter.
Contact BGCI's Education Department for more information on any of BGCI's education programs.