Plant for the Planet Adult Education Course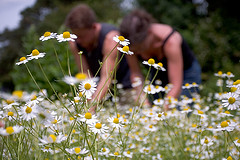 One thing we know about home gardeners is that they love plants. But how many gardeners know that they can help save some of the world's most threatened plants? BGCI has designed a one-session, three-hour adult education course curriculum to help gardeners learn simple, everyday actions that promote plant conservation when gardening, from purchasing seed-propagated plants to growing non-invasive species. Class participants also learn about major threats to plants worldwide, and the government, nonprofit, and citizen efforts to save plants in gardens and in the wild.
The adult education course is part of BGCI's Plant for the Planet campaign, designed to reach home gardeners with the plant conservation message. The campaign includes BGCI's recent publication, "A Plant Conservation Checklist for Gardeners." This leaflet provides an overview of the many lessons included in the adult education course. You can download the "Checklist" through the link below.
The adult education course is ready to go and easy to implement. We provide all the materials you need, including a detailed lesson plan, a short Powerpoint presentation with script, and other supporting materials. Download the lesson plan and the Powerpoint presentation through the links below. For additional support, contact BGCI's Education Department.
Download these materials to get started:
Plant for the Planet: Conservation for Home Gardeners lesson plan (PDF file, 605kb)
Plant Conservation: Where Are We Now? powerpoint presentation (PPT file, 965kb)
A Plant Conservation Checklist for Gardeners (PDF file, 486kb)
Special thanks to Brooklyn Botanic Garden, United States Botanic Garden, and Fairchild Tropical Botanic Garden, and Five Rivers Center for their assistance in developing this course.
Photo by Steve Ford Elliott.