Wuhan: Congress Proceedings Online
The 3rd Global Botanic Gardens Congress has drawn to a successful conclusion. Attracting nearly 1,000 participants from 67 countries, the congress included 4 plenary sessions, 42 symposia, 7 workshops, and 6 network meetings. A total 202 oral and 145 poster presentations were given during the week. You can most of these archived online here.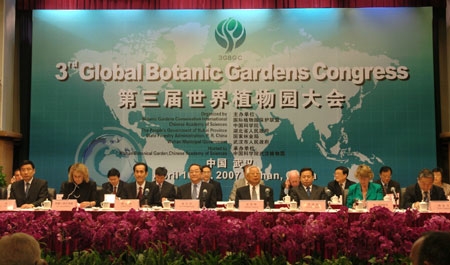 The Proceedings on this website consist of Papers and Posters. All the documents are in PDF format.
Proceedings

BGCI Congresses
BGCI organises congresses to enable botanic gardens to share experiences and information in plant conservation. The Proceedings of past congresses are made available to the public on our website.
3GBGC - Reports From Wuhan
BGCI's roving reporter for the Congress, Sarah Kneebone, kept a diary of the event as it unfolded. Read her daily reports of the news from the 3rd Global Botanic Garden Congress in Wuhan, below.

Latest News
20 August 2014

The congress will feature panel sessions, workshops and poster showcases on a range of topics - to participate please contact the relevant person directly. We're also interested in your own ideas for sessions! Proposals must be recieved by the 15th of September, 2014.
19 August 2014

"Watering Our Roots to Grow Our Communities" is the theme of the 2015 American Public Gardens Association conference, which will take place from the 22nd to 26th June 2015 in the Twin Cities of Minneapolis and Saint Paul, Minnesota.
13 August 2014
A new overview and instructions for BGCI's globally unique databases of gardens and the collections they maintain.