Wuhan: Congress Proceedings Online
The 3rd Global Botanic Gardens Congress has drawn to a successful conclusion. Attracting nearly 1,000 participants from 67 countries, the congress included 4 plenary sessions, 42 symposia, 7 workshops, and 6 network meetings. A total 202 oral and 145 poster presentations were given during the week. You can most of these archived online here.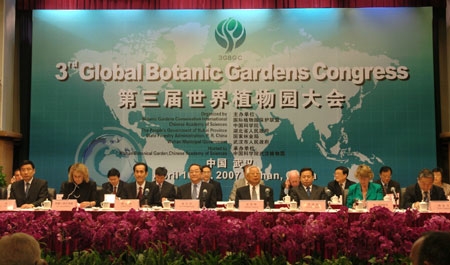 The Proceedings on this website consist of Papers and Posters. All the documents are in PDF format.
Proceedings

BGCI Congresses
BGCI organises congresses to enable botanic gardens to share experiences and information in plant conservation. The Proceedings of past congresses are made available to the public on our website.
3GBGC - Reports From Wuhan
BGCI's roving reporter for the Congress, Sarah Kneebone, kept a diary of the event as it unfolded. Read her daily reports of the news from the 3rd Global Botanic Garden Congress in Wuhan, below.

Latest News
20 November 2014
The International Plant Sentinel Network launched its new website at the 8th Neobiota International Conference on Biological Invasions in Turke at the start of the month. The website includes resources, news and information about the network.
17 November 2014

The Red List of Betulaceae is the latest in our series of red list publications and includes assessments for taxa from six genera; Alnus, Betula, Carpinus, Corylus, Ostrya and Ostryopsis.
14 November 2014

The publication is an indispensable working resource for anyone with a serious interest in the distribution, habitat, morphology, and survival of the wide-ranging plant life around us. Preorderfyour copy from 16th December.