Wuhan: Congress Proceedings Online
The 3rd Global Botanic Gardens Congress has drawn to a successful conclusion. Attracting nearly 1,000 participants from 67 countries, the congress included 4 plenary sessions, 42 symposia, 7 workshops, and 6 network meetings. A total 202 oral and 145 poster presentations were given during the week. You can most of these archived online here.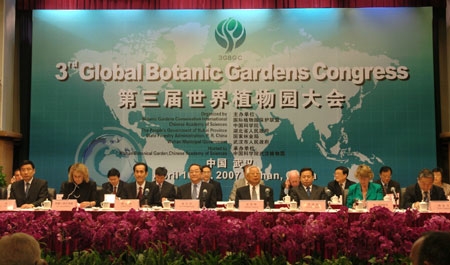 The Proceedings on this website consist of Papers and Posters. All the documents are in PDF format.
Proceedings

BGCI Congresses
BGCI organises congresses to enable botanic gardens to share experiences and information in plant conservation. The Proceedings of past congresses are made available to the public on our website.
3GBGC - Reports From Wuhan
BGCI's roving reporter for the Congress, Sarah Kneebone, kept a diary of the event as it unfolded. Read her daily reports of the news from the 3rd Global Botanic Garden Congress in Wuhan, below.

Latest News
17 December 2014
Celebrating our achievements from the year, with thanks to our member gardens and supporters.
16 December 2014

As part of the ongoing research project to assess the conservation status of the world's tree species, the latest Red List report on the montane tree species of the tropical Andes by Natalia Tejedor Garavito (Bournemouth University) in collaboration with BGCI has been published.
15 December 2014
Professor Stephen Blackmore, Chairman of BGCI, is delighted to announce that Dr Paul Smith has been appointed as the next Secretary General of BGCI and will take up the post in February 2015.