Wuhan: Congress Proceedings Online
The 3rd Global Botanic Gardens Congress has drawn to a successful conclusion. Attracting nearly 1,000 participants from 67 countries, the congress included 4 plenary sessions, 42 symposia, 7 workshops, and 6 network meetings. A total 202 oral and 145 poster presentations were given during the week. You can most of these archived online here.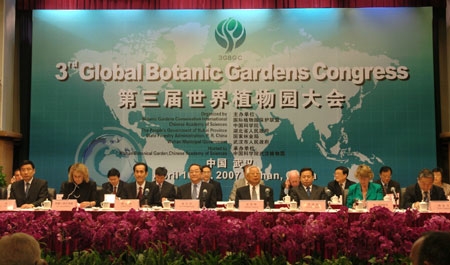 The Proceedings on this website consist of Papers and Posters. All the documents are in PDF format.
Proceedings

BGCI Congresses
BGCI organises congresses to enable botanic gardens to share experiences and information in plant conservation. The Proceedings of past congresses are made available to the public on our website.
3GBGC - Reports From Wuhan
BGCI's roving reporter for the Congress, Sarah Kneebone, kept a diary of the event as it unfolded. Read her daily reports of the news from the 3rd Global Botanic Garden Congress in Wuhan, below.

Latest News
17 July 2014
Oxford University Press announces the publication of The Flora of North America North of Mexico; Volume 28: Bryophyta, Part 2. This volume will be available in September 2014 and includes treatments prepared by 44 authors covering 698 species in 206 genera classified in 48 families.
16 July 2014

"Caucasus. Plant Biodiversity between the Black Sea and the Caspian Sea" is this year's special exhibition in Berlin's Botanic Garden and Botanical Museum.
16 July 2014

Grow Wild is a four year "mass participation programme" , providing funding to gardens and gardening groups and sharing native plant seeds to help community togetherness and inventiveness flourish, whilst benefitting bug biodiversity.