Print this Page
BGCI and CBD Secretariat sign new agreement
4 May 2011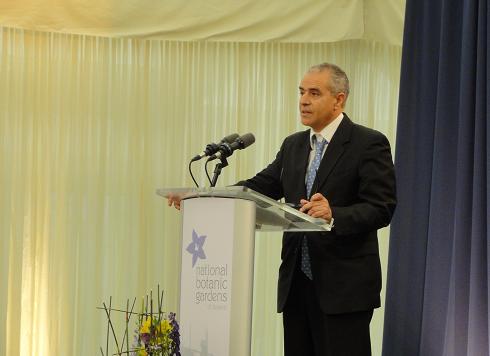 Above: Dr Ahmed Djoghlaf, Executive Secretary for the Convention on Biological Diversity Secretariat addressing BGCI's Botanic Garden Congress in Dublin, Ireland in 2010

BGCI has signed a Memorandum of Agreement (MoU) with the Secretariat of the Convention on Biological Diversity (CBD) with the aim of having "an effective partnership on the implementation of the consolidated and updated Global Strategy for Plant Conservation (GSPC) 2011-2020." The agreement will benefit Parties and other stakeholders and contribute to the implementation of the Strategic Plan for Biodiversity 2011-2020 and the promotion of the United Nations Decade on Biodiversity. An official signing ceremony between BGCI and the CBD Secretariat will be held at SBSTTA 15 later this year.

Dr Ahmed Djoghlaf, Executive Secretary for the Convention on Biological Diversity Secretariat said:

"The historic Nagoya Biodiversity Summit saw the adoption of a global biodiversity strategy for 2011-2020, as well as an updated Global Strategy for Plant Conservation. The challenge is now to translate these overarching biodiversity frameworks into national strategies and action plans. A Japan Biodiversity Fund has been established to that effect."

He continued, "For plant conservation, technical support is being provided by Botanic Gardens Conservation International through its new agreement with the CBD Secretariat and through the Global Partnership for Plant Conservation. I am grateful for their commitment over the years: the Convention depends on reliable partners to move towards a world of "Living in harmony with nature", where by 2050, biodiversity and ecosystem services are valued, conserved, and sustainably used for the benefit of all people."

Speaking for BGCI, Suzanne Sharrock - Director of Global Programmes at BGCI added:
"We've been supporting the GSPC since its inception in 2002, and now we're delighted that the new agreeement will allow us to to continue this ongoing work."

Under the terms of the agreement the CBD Secretariat will receive technical support from BGCI in relation to the GSPC and other related decisions taken by the Conference of the Parties to the CBD. In partnership with the Secretariat and in collaboration with other relevant partners, BGCI will carry out a series of activities to support the implementation of the GSPC at national, sub-regional and regional levels. This will include the preparation of publications, outreach materials and technical documentation, as well as capacity building and training workshops on the GSPC, with a view to facilitating the incorporation of national plant conservation targets into revised national biodiversity strategies and action plans. BGCI will also promote the GSPC through its other work programmes and publications and will continue to work with its partners to raise additional funds for the implementation of the GSPC.
Over the past ten years, BGCI has developed extensive expertise in supporting the GSPC. It provides the Secretariat for the Global Partnership for Plant Conservation (GPPC), an informal network of national and international organisations committed to the implementation of the GSPC and is in the process of developing a toolkit to support GSPC implementation at national and regional levels.
A draft version of the toolkit will be demonstrated at the upcoming GPPC Conference, which will be held in St. Louis, Missouri from 5-7 July 2011. For more information about the Conference, visit:
http://www.mobot.org/gppc2011/
More information about the GSPC is available from the BGCI and CBD websites:
http://www.bgci.org/ourwork/gsp
c and
www.cbd.int/gspc