Resource centre
>
News
> Successful translocation of Critically Endangered Cyperus polystachyus
Print this Page
Successful translocation of Critically Endangered Cyperus polystachyus
ITALY
27 August 2010
A joint research project carried out by the Rome Botanic Garden, the Italian Institute for Environmental Protection and Research (ISPRA), and the Regional body for Protected Areas (Romanatura) undertook an integrated conservation project on Cyperus polystachyus, a rare and endangered plant (CR). The species occurs in Europe at just two sites located in wetland habitat in Mediterranean Southern Italy where it is considered a probable termophilous relict.

The species is facing conservation threats at both sites due to touristic infrastructure and water capture. In addition, wetland drainage occurring in the region since the 1700's has likely reduced the original range of the population and the occurrence of sites appropriate for recruitment.

For all these reason a conservation introduction project was undertaken with the translocation of germoplasm (seeds and seedlings) to a new site located in a Protected Area nearby one of the sites were the species occurs (and within the dispersal range capability). This new establishment in the wild was considered vital for the conservation of the species because its life cycle, distribution and recruitment features make the species vulnerable to local extirpation and consequent extinction in Europe from factors such as localised catastropic or anthropogenic events, demographic stochasticity or a sequence of unfavourable seasons in the current climatic change regime.

The ex situ conservation know-how of the Rome Botanic Garden, the institutional role of a National research institute (ISPRA) and the local approach of a regional body for Protected Areas have combined to make this project a great success initially. The first stage of the translocation recorded two generations of new seedlings. However, successful introduction of an endangered species requires continuous ongoing care and there is the hope that appropriate management of the project will ensure sustainability of the project and ultimately the conservation of the species.
| | | |
| --- | --- | --- |
| | | |
| Cyperus pellets | Cyperus polystachus | Fenced Cyperus |

Crosti Roberto & Fabrini Giuseppe, 2010, Integrated conservation of the rare and endangered thermophilous species Cyperus polystachyus: investigation on recruitment strategies and short-term assessment of translocation. Annali di Botanica n. s. 2010: 129-137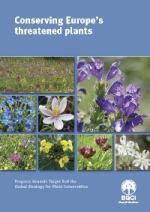 Conserving Europe's threatened plants
The continuing loss of biodiversity in Europe is a major concern, with less than half protected species and habitats considered to be in favourable conservation status. Read BGCI's latest publication, launched at the 5th European Botanic Gardens Congress, Helsinki, Finland in June 2009.