Print this Page
Top plantsman Chris Beardshaw supports Plants for the Planet!
19 August 2010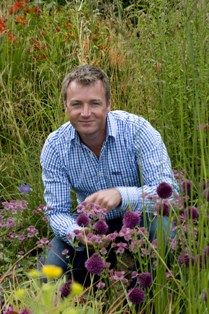 Chris Beardshaw, award winning garden designer and TV presenter, spoke out today in support of our
Plants for the Planet
campaign
.
He joins politicians, prominent figures from conservation and many members of the public who have already joined the campaign, supporting a global call to all governments to commit to saving the world's plant species from extinction.
Plants are essential for all life on earth and play a fundamental role in regulating the global climate. Plants give colour and inspiration to our lives, and gardening is increasingly popular. As we know, plants provide us with food, medicine, timber and a whole host of natural products. Yet the world is losing plant species at an alarming rate; at least one third of all wild plant species are threatened with extinction.
"Plants in all their shapes and sizes, known and unknown, are fundamental to our lives and to our enjoyment of our open spaces" said the award winning gardener, "But we need to be aware that plants are not just here for our benefit; we must recognise the role they play in complex habitats such as rainforests, prairies, woodlands and grasslands around the world. We cannot afford for plants to be threatened and made extinct – we need a cohesive directive from the highest level of worldwide government."

Plants for the Planet aims to raise the profile of plants in the biodiversity debate and demonstrate popular support for plant conservation. BGCI wants to show world leaders that people care about and recognise the fundamental importance of plants. We'll use the campaign to persuade governments to adopt a strong
Global Strategy for Plant Conservation
(GSPC) for the coming decade.
In 2010, the
UN Year of Biodiversity
, governments will gather in Nagoya, Japan for a meeting of the Convention on Biological Diversity (CBD) where they will be asked to ratify the updated GSPC. The strategy includes 16 targets - to be met by 2020 - that have been developed to address the greatest challenges facing plant species, including climate change and the global trade in endangered species.
Support for the campaign will help BGCI send a strong message to governments that countries must act now to halt plant extinction.
 
Find Out More
Plants for the Planet
Show your support for plants - just sign your name!
The International Year of Biodiversity
The United Nations declared 2010 to be the International Year of Biodiversity. It is a celebration of life on earth and of the value of biodiversity for our lives. The world is invited to take action in 2010 to safeguard the variety of life on earth: biodiversity.