Print this Page
Australian National Forum on Climate Change Education and Awareness
30 May 2008
Key education and public programme representatives from capital city botanic gardens around Australia met at the
Australian National Botanic Gardens
in April 2008 to begin developing a national approach to climate change education. The forum aimed to tap into the collective potential of botanic gardens to make a difference by increasing awareness of the importance of biodiversity and sustainable living in responding to climate change.
Participants agreed to four key messages for botanic gardens on climate change, messages broad enough to be adapted to suit a range of contexts and audiences:
1. Plants are central to the cycles of the planet (including the carbon, water and nitrogen cycles).
2. People and plants will determine the future of climate change. Plants do, and people can, reduce the impact of climate change and adapt to changes that occur.
3. Botanic Gardens are special places for people to research, learn about and debate climate change.
4. People need to protect biodiversity (plant diversity and diversity of ecosystems), because biodiversity will help reduce the impacts of climate change.
During the day, participants shared information on what their gardens are already doing, and developed common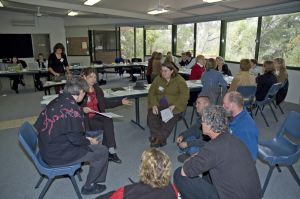 Deep in discussion on climate change education.

objectives for a joint national climate change education/awareness initiative. 'It's exciting to be part of a national discussion,' commented Mick Robertson from the Royal Botanic Gardens Cranbourne. 'The whole approach to climate change has to be global'.

'Developing the key climate change messages crystallised thinking for me,' reflected Mark Fountain from the Royal Tasmanian Botanical Gardens. 'Thinking strategically, we can take those messages back and make sure we're pushing them. We've just finished an interpretation plan, now we can make sure we're plugged into the messages. That's the most valuable thing. It's been very interesting to listen to educators talk about education. It's certainly been a very valuable day'.

A number of gardens have already begun implementing the climate change key messages within their programmes and communication materials. A working group has been formed to develop a national pilot programme for Australian botanic gardens on climate change and biodiversity education and awareness. 'This is a great opportunity to collaborate' said Sabrina Sonntag from the Australian National Botanic Gardens. 'Together we can achieve some really powerful outcomes.'