Print this Page
Botanic gardens lead the way for environmental education in Mexico
20 December 2007
Botanic Gardens in Mexico join in with environmental educational centres
Botanic garden education went down a storm at the 10th National Meeting of Environmental Education Centres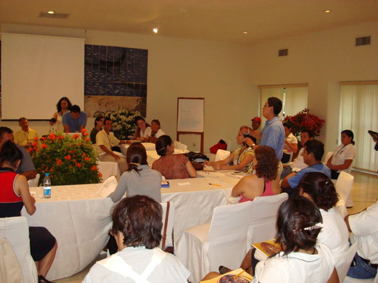 Educators from all over Mexico took part in workshops and lectures
in Mexico, at the end of November. The meeting, held in the popular city of Ixtapa, on the Pacific coast of Mexico is promoted by the Education Department of SEMARNAT (the Mexican secretariat for natural resources and environment) and aims to strengthen the role of education centres as strategic providers of environmental education for sustainability. About 200 educators from a wide range of providers, such as museums, community-based eco-centres, aquariums, natural protected areas, parks, zoos, sea turtles centres, etc., met to share experiences through lectures, field trips and workshops. One major area for discussion was a certification scheme for certifying environmental centres.
Orlik Gomez-Garcia, manager of the Francisco Javier Clavijero Botanic Garden, presented a workshop on interpretation, illustrating the educational activities that BGCI member gardens use to communicate with their visitors. Topics included how to design a pathway, define a theme, signage, and writing interpretational text. The workshop was enthusiastically received by 35 participants. Orlik reported that a workshop on playing games with children and teenagers was particularly useful for his work.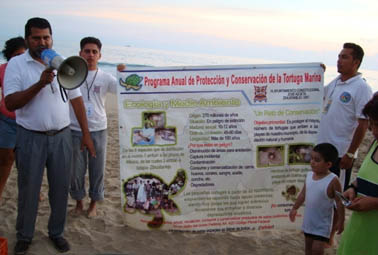 The meeting celebrated a term conservation project in the area with a turtle release
The conference included field trips to an ecotourism centre in the mountains, swimming with dolphins, and the release of about 800 sea turtles as part of a species conservation programme by the municipality of Ixtapa.
Other botanic garden representatives included the education teams from Xochitla and El Charco del Ingenio, ensuring a strong demonstration of the important role botanic gardens play in environmental education.
Article by Orlik Gomez-Garcia, contact him for more information at orlik.gomez@inecol.edu.mx