Print this Page
Rendezvous with French educators in Lyon
11 December 2007
Even a national rail strike in France didn't dampen the enthusiasm of 50 educators who converged on Lyon for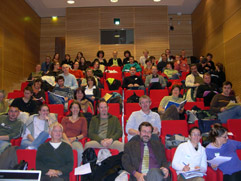 The technical workshop was well attended by educators from all over France
the
4th Technical Workshop on Education in French Botanic Garden
s. Hosted by
Lyon Botanic Garden
, the main focus of the three-day workshop was education for the younger years. Engaging talks were presented on the psychology of early learning and several educators presented their experiences of running education programmes for young children. Presentations were also given on managing a green space for learning, providing cultural educational experiences, developing a sustainable park environment and promoting
Target 14 of the Global Strategy for Plant Conservation
.
A number of delegates showcased innovative activities that could be adapted in other botanic gardens and plenty of opportunities were available for sharing ideas and materials. Visits to the Contemporary Art Museum and the botanic garden took place over the three days and during a reception held at the Orangery in Lyon Botanic Garden's, delegates experienced a new interpretative exhibition on evolution.
Another highlight of the meeting was the launch of a new education resource produced by the education group of the French Botanic Garden Network. The resource, in French, provides two ready-to-go sets of lessons for educators on 'Trees in Winter' and 'Useful Plants' and is being sent to all members of the French Botanic Garden Network . It is also available to other interested botanic gardens for the price of package and postage. For more information about the workshop or the new education resource, contact: Loïc Ruellan at animation@cbnbrest.com

Education resources
One of BGCI's key work areas is in Education - the provision of materials for people in botanic gardens to use in their education programmes of all kinds. This section is here to support botanic garden and other environmental educators in their work, so we can all see plant diversity flourishing.