Print this Page
Emphasis on Eco-Schools
15 August 2007
Within the programme of the 4th World Environmental Education congress in July 2007, several key patterns emerged. Within the overall topic of education for a more sustainable world, many speakers were presenting on the same areas – notably new learning styles, partnership programmes and their experiences of the eco-school approach.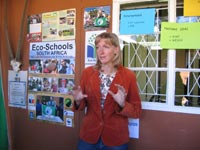 Eco-Schools display at the
WESSA offices in Umgeni Valley Nature Reserve
The Eco-schools programme was set up by the Foundation for Environmental Education in 1994 as a way to "raise students' awareness of environmental and related sustainable development issues through classroom study together with school and community action, and provides an integrated system for environmental management of schools based on an ISO14001/EMAS approach".
The programme uses a straight forward 7-step system to guide schools and students through a process, identifying, implementing , monitoring and formalising environmentally sound methods of running and working a school. The key to its success is the integration of student participation and community involvement, working towards being awarded a Green Flag. The programme has grown hugely over the past13 years and now has over 14000 participating schools and over 4000 Green Flag award winners in 37 countries.
One of the most recent developments has been the creation of the 'Linking and Itinerary System' – a search engine for participating schools to find each other, to form a connection and support in working towards their Green Flag. The system "aims at providing an "Itinerary" where schools can visit each other virtually, and understand their characteristics within their regional contexts, motivating young people to learn about each other and their culture. Through a search engine, the "Linking" can also be used to identify Eco-Schools with similar interests, within their own community or in another continent, to exchange ideas, work together on projects, establish "twin schools", or just make new friends and pen-pals."
For more information about Eco Schools, have a look at the International Eco-Schools Programme website, or the Foundation for Environmental Education