Print this Page
Seed Conservation Essential for Food Security
ERITREA
19 February 2007
From Wagdy Sawahel at SciDevnet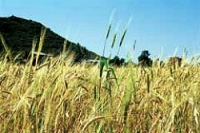 New disease resistant barley variety
in a Eritrean field (Photo © FAO)
Researchers have discovered varieties of barley with a surprisingly high level of genetic diversity in Eritrea, which could be useful for researchers trying to breed drought and disease resistant barley.
But the scientists warn that the resource could be lost if seed conservation measures are not improved.
The United Nations Food and Agriculture Organization (FAO) estimates that about three-quarters of the genetic diversity of agricultural crops has been lost over the last century. Just 12 crops and 14 animal species now provide most of the world's food. Dr. Jacques Diouf, director-general of FAO, believes that biological diversity is one of the keys to ending world hunger.

The barley, found in farmer's fields surrounding the capital city Asmara in Eritrea, has the highest level of genetic diversity ever discovered.

Lead researcher Ahmed Jahoor, of the University of Copenhagen, Denmark, says he observed that the barley grows under diverse levels of drought severity, which could be useful to plant breeders wishing to select the level of drought tolerance needed. He expects to find genetic variability for disease resistance as well.
Jahoor says the seeds will be invaluable for improving barley "not only in Eritrea but elsewhere in tropical highland where barley is grown".
They could be used as a new source of useful genes that have not previously been used in barley breeding programmes, and will be available for research purposes through common material transfer agreement procedures.
However, Jahoor told SciDev.Net that the new gene pool is under threat due to poor seed conservation facilities in Eritrea. He urged the scientific community to establish a seed bank to conserve the genetic resource before it is lost forever.
Jahoor says he has had difficulties obtaining funding for a seed bank because the Danish government has stopped supporting Eritrea for political reasons, and other funding agencies have not committed any funds.
Mike Gale, emeritus research fellow at the UK-based John Innes Centre, says the levels of genetic diversity that the researchers found clearly demonstrates the value of international genebanks.
The research was part of the Integrated Cereal Disease Management programme that aims to enhance research collaboration between Danish research institutes, National Agricultural Research Institutes in developing countries and centres of the Consultative Group on International Agricultural Research.
It was published online in Theoretical & Applied Genetics on 6 February 2007. The article challenges the widely accepted hypothesis that wild barley, Hordeum vulgare subsp. spontaneum, from the 'Fertile Crescent', is the progenitor of cultivated barley. It indicates that an independent domestication might have taken place at the Horn of Africa.

Citation:

Journal Title - TAG Theoretical and Applied Genetics
Article Title - The Horn of Africa as a centre of barley diversification and a potential domestication site
Author - Jihad Orabi, Gunter Backes, Asmelash Wolday, Amor Yahyaoui, Ahmed Jahoor
DOI - 10.1007/s00122-007-0505-5
Link - http://www.springerlink.com/content/h63xx28l3l212711

The Principles on Access to Genetic Resources and Benefit-Sharing
A framework to help gardens and herbaria develop policies and procedures on access and benefit-sharing.

Find Out More
Bioversity International (formerly IPGRI)
Bioversity is an international research institute with a mandate to advance the conservation and use of genetic diversity for the well-being of present and future generations. It is a Centre of the Consultative Group on International Agricultural Research.
International Centre for Underutilised Crops
The mission of the ICUC is to promote the use of underutilised crops for the benefit of humankind and the environment. ICUC provides expertise for tropical, sub-tropical and temperate crop development, in close collaboration with partners in 19 countries in Asia and Africa.
The Global Crop Diversity Trust
An increasingly unpredictable and changing climate, and a world population expected to reach 9 billion by 2050, will place unprecedented demands on agriculture. Our mission is to ensure the conservation and availability of crop diversity for food security worldwide.