Print this Page
Rare Sight in China - Climate Change Could be Cause
GLOBAL
13 November 2006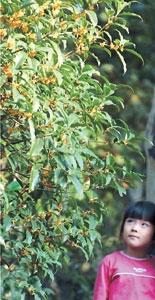 Unusual flowering patterns in
Shanghai draw attention -
but what else might climate
change bring to China?
Image © ShanghaiDaily

Visitors to the Shanghai Botanical Garden are this week witnessing a very rare event - chrysanthemums, orchids and osmanthus flowers all in full bloom at the same time.

The osmanthus flowers in the garden on Monday went into bloom for the third time this year, according to the garden's director Li Xuemei.

"The normal flowering season for osmanthus is early and middle October, but this year's warm weather gives them more time to show up," explained Li. "Early November is the normal flowering season for orchids and chrysanthemums, thus the scene of three flowers blooming together is formed."

"As far as I can remember, this is the first time for such a rare scene to appear in our garden," she added.

Li said visitors who want to enjoy the beautiful scene should act quickly, as a cold front expected to enter the city over the weekend may cause the osmanthus flowers to wither quickly.

"The chrysanthemums and orchids won't wither until the end of this month, but osmanthus blossoms won't wait till then," said Li.
Climate Change "Spiralling Out of Control"
Meanwhile, it has been reported in the journal Nature that greenhouse gas emissions have been increasing four times faster than the 1990s, giving added urgency to the international talks on climate change taking place in Nairobi.
Michael Raupach, a carbon-cycle scientist with Australia's Commonwealth Scientific and Industrial Research Organization (CSIRO) in Canberra, who presented the Global Carbon Project results, reported "Global carbon emissions are now growing by 3.2% a year... That's four times higher than the average annual growth of 0.8% from 1990-99... We are not on any of the stabilization paths."
This is well beyond Intergovernmental Panel on Climate Change (IPCC) projections of the emissions levels needed to prevent damaging climate change.
The accelerated rise is a result of rapid growth in developing economies such as China, India and Brazil, as well as the failure of developed countries such as the US to mitigate their greenhouse gas output.
China currently contributes some 16% to global emissions, but accounts for 40% of the growth in world emissions.

The research, carried out for UNESCO by the Global Carbon Project, are being presented in Nairobi, where representatives from the world's governments are meeting to discuss the Kyoto protocol on climate change. The Kyoto protocol requires developed countries to cut emissions. Discussions include how to extend the Kyoto protocol beyond 2012, when current provisions expire, and how to include developing countries in mandatory emissions cuts.
China Has an Important Role to Play
"What's really striking is the rate of growth in places like China," says Raupach. According to Chinese figures, China
currently contributes some 16% to global emissions, but accounts for 40% of the growth in world emissions.

China's vice premier Hui Liangyu yesterday told the meeting that China, like all countries, suffers from severe weather events that are in part a result of global warming. "The Chinese government attaches great importance to global environmental change and actively copes with the related problems," he wrote in a letter to the meeting delegates.

China plans to reduce the amount of its 'energy intensity', defined as the emissions per person per unit of GDP, by 20% by 2010, although it has no official emissions targets.

The rate of increase will make it more difficult to hold levels of carbon dioxide in the atmosphere below 550 parts per million, cited by the UK's recent Stern review on climate change as the limit of safety for the climate.
The US and Australia have previously rejected the treaty and it a sign of progress that they are attending the talks at all. Some are hoping the US will soften their outlook after this week's Democratic victories in the mid-term elections, and the language of the Australian government has also changed.
But if China doesn't also take strong and immediate action they could be seeing many more climate changes, not all as welcome as unusual flowering times at the botanic gardens.
 
Find Out More
Friends of the Earth: Brainy Ways to Beat Climate Change
Friends of the Earth inspires solutions to environmental problems which make life better for people. These technologies put paid to the old cliché that we can't do anything about climate change.
Intergovernmental Panel on Climate Change
The IPCC (Intergovernmental Panel on Climate Change) its a international association of scientists that provides authoratative information on current and predicted extent and impacts of climate change.