Print this Page
Call For Urgent Action to Prevent Mass Plant Extinction
WORLDWIDE
7 September 2006
With fears that one in four of the world's plant species could already be on the brink of extinction from the effects of global climate change – and as many as half of the planet's estimated 400,000 plant species facing a similarly bleak future – a group of leading plant scientists have today called for a global action plan to tackle the impending crisis.
"While the impact of climate change on iconic animal species, such as polar bears, is well recognised," says Sara Oldfield, Secretary General of Botanic Gardens Conservation International (BGCI), which is co-ordinating the initiative, "the threat that global warming poses to plant diversity is often overlooked and this could have serious consequences for the future of the planet."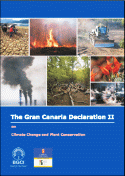 The Gran Canaria
Declaration calls for
urgent action on plant
diversity
Image © BGCI
In issuing its '
Gran Canaria Declaration on Climate Change and Plant Conservation
' the Gran Canaria Group, whose membership is drawn from major biodiversity conservation organisations around the world, including botanic gardens, calls on the international community to take urgent action to protect global plant diversity.
The declaration provides specific guidelines for action and recognises the pivotal role of botanic gardens in delivering the conservation message worldwide to their over 200 million annual visitors. Equally important, it says, botanic gardens offer an insurance policy for the future, their collections of wild plants safeguarded as native habitats vanish. Key climate change concerns are also highlighted in the declaration, including the use of natural vegetation in water management and carbon offsetting and the vital defensive work of coastal ecosystems in the face of rising sea levels and extreme weather events.
The declaration calls for immediate conservation action to protect plant species most at risk from climate change. And priority must also be given to:
The development of more detailed climate change modelling to detect potentially threatened species
Implementation of adaptive management strategies in vulnerable ecosystems
Sustainable management of existing natural vegetation to maintain carbon stocks and the monitoring of new plantings intended to offset carbon emissions, to ensure their ecological suitability

Building on the United Nation' s successful adoption in 2002 of the Global Strategy for Plant Conservation (GSPC), following the first Gran Canaria Declaration in 2000, the group argues for a re-definition of the GSPC to respond more effectively to the realities of climate change. It recommends that the BGCI-facilitated Global Partnership for Plant Conservation (GPPC), which supports and is active in implementing the GSPC, be closely involved in this process.
The terrifying implications of plant extinctions for the future of humankind and the wellbeing of the planet simply cannot be underestimated, the scientists believe, and time, they argue, is running out. A recent study of four of the world's most important food crops, rice, potato, peanut and cowpea, predicts that climate change over the next fifty years will have a devastating impact on their wild relatives, which harbour the genetic diversity that may enable cultivated crops to adapt to changing climatic conditions. By 2055, says the research, up to a quarter of all potato, peanut and cowpea species could become extinct and over 50% of the land area currently suitable for their cultivation could be gone.
"Maintaining the genetic diversity that exists among the wild plant population is absolutely essential if we are to have any chance of mitigating the effects of climate change," says Emile Frison, Director General of the International Plant Genetic Resources Institute (IPGRI), a co-signatory of the declaration. "And this is not just a plant problem, but a human one too. Plants are key to human survival, not just for food, but medicines and many other essential materials."
And as environments change faster than plant species can migrate, scientists estimate that in less than 80 years up to half of Europe's plant species could be under threat and a massive 60% of mountain species may have vanished.
"We have to step up to the challenge now, at every level, if we are to make a difference," warns BGCI's Sara Oldfield. " The impact of global climate change on plants and habitats is already being felt and unless we do something about it urgently, the implications for all life on earth are bound to be severe."