Print this Page
Virtual Biodiversity Conference Needs Your Input
ONLINE
20 February 2006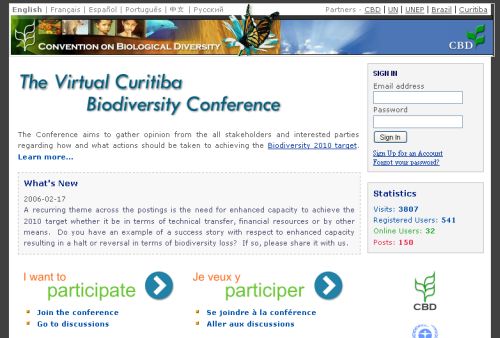 The Virtual Curitiba Biodiversity Conference is now underway and stakeholders are invited to share their ideas on how to meet 2010 targets. Botanic gardens are major contributors to meeting several of the targets as developed in the GLobal Strategy for Plant Conservation, although there is often a tendency to underestimate their own contribution. They are unique in having a 'public face' and can often inspire the conservation world to share information and reach wider audiences, as well as acting as a conduit of information from conservation scientists to the general public all around the world.
You can take part in English, French, Spanish, Portuguese, Chinese and Russian and it's very easy to sign up. Anyone with internet access can take part. So click on the link below and share your ideas right now!
 
Find Out More
The Virtual Curitiba Biodiversity Conference
The Conference aims to gather opinion from the all stakeholders and interested parties regarding how and what actions should be taken to achieving the Biodiversity 2010 target.