Print this Page
Inauguration of the National Bamboo Collection of Mexico
MEXICO
28 December 2005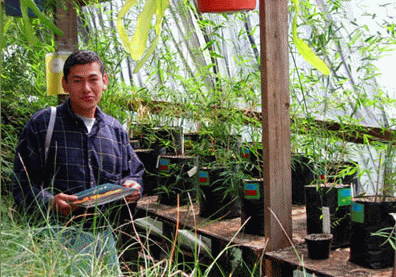 A major project on the conservation of native bamboo has come to fruition in Mexico. On November 17, 2005 in Xalapa, Veracruz, the national bamboo collection was declared officially opened by INECOL's Director, Dr. Miguel Equihua, BOTA Director, Gib Cooper and Project Director, Dr. Teresa Mejia. Staff and guests participated in the one-day celebration.
Inauguration activities included statements by representatives of INECOL and BOTA, followed by presentations about bamboo conservation and departmental reports concerning related bamboo research.
The collection of living and herbarium vouchers grew over two years of intensive field activity by bamboo taxonomist Gilberto Cortes and several students. It is owing to their hard work that the living plants and herbarium specimens were on display for inauguration day. On display were forty-seven plantings represented by 26 species of native Mexican bamboo. It was a fine sight realized by several years of intense work by all the participants and was represented by the first new culms of Chusquea and Rhipidocladum species arching overhead.
Project funds came from donations by individuals and the American Bamboo Society chapters in the USA.The funds were raised over a yearlong period by Bamboo of the Americas (BOTA) director, Gib Cooper.
The project was developed from a BOTA grant to Dr. Teresa Mejia, her colleagues, students and garden staff at the Ecology Institute, A.C. (INECOL), the associated Francisco Xavier Clavijero Botanical Garden and Biologist Gilberto Cortes of the Technological Institute of Chetumal.
Gib Cooper, Director
Bamboo of he Americas (BOTA)