Print this Page
Duchess Fills Her Poisoned Garden with Coca, Poppies and Strychnine
NORTHUMBERLAND, UK
2 March 2005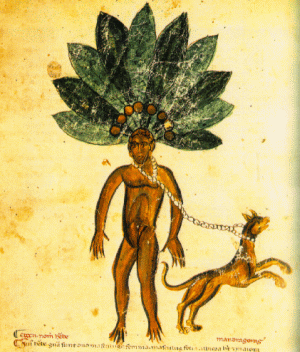 Mandragora officinarum (Solanaceae), also known as Mandrake, was so named for its fancied resemblance to the human form. Western legend has it that the plant screamed when pulled by the roots from the ground. It made a noise so deafening to humans that dogs were employed for the task.
Image from MEDICINA ANTIQUA: LIBRI QUATTUOR MEDICINAE, 13TH CENTURY. Codex Vindobonensis 93. (Washington University, Becker Library)

A spooky cloud of mist wafted through borders planted with strychnine, cannabis, devil's eye, stinking nightshade and mandrake which, legend has it, emits an ear-piercing scream when uprooted, and begins to sweat blood.
No wonder the constabulary was so keen to enforce the "no cuttings" policy yesterday when Britain's newest public garden was opened.
The Duchess of Northumberland's £400,000 Poison Garden, which needed a Home Office licence to reach fruition, also includes shrubs so dreadful designers suggested growing some of them in cages.
The dell, at Alnwick Castle, Northumberland, is designed to tap our fascination with the plants that cannot be touched, and to educate on the dangers of species such as poppies, magic mushrooms, coca (the source of cocaine) and castor oil plants used to produce the deadly nerve agent ricin.
Other "attractions" will include darnel, the only known poisonous grass, countryside favourites such as foxglove and granny's nightshade and monk's pepper, which can affect the hormonal balance in both sexes. The "Don't touch the plants" signs are reinforced by marshals who will escort people through. The garden, designed by the Belgian, Peter Virtz, has been condemned locally as an "irresponsible" and "naive" glorification of drugs. But the Duchess drafted in Northumbria Police Chief Constable Crispian Strachan for the launch and reiterated the Government's drug education message that "drugs are illegal but talking about them is not". She said: "The majority of our visitors are over 55 and they don't know what the new drugs are, or how plants have been adulterated over the years to make them."
She also has her eyes set on how to persuade more people to make the long haul up to Alnwick (30 miles north of Newcastle) to see Alnwick Gardens, the £42m extravaganza billed as the Versailles of the North she developed on her family's estate.
The Duchess's research shows Europe has few poison gardens. The 400-year-old Padua Botanical Gardens in Italy includes one, established by the Medicis when they were trying to find better ways of killing their enemies, but that is run down.
The controversy surrounding her decision to bring the idea to Northumberland is not new to her. Many have opposed her Gardens, including English Heritage which fought her initial planning application for the Grade 1-listed wall garden through 1998 and 1999. Seeing off its objections cost ?500,000.
Conventional gardening experts then scoffed at her "vanity gardening" which includes a Grand Cascade water feature with120 water jets.
But visitor numbers speak for themselves. Experts predicted that 67,000 people would visit the garden in 2002 (its first year), but 318,000 turned up and with more than 500,000 visitors last year the garden was the third most-visited, paid-for, garden in Britain.
TOXIC PLANTING
Mandrake (mandragora officinarum), Its fleshy root is supposed to resemble a man - hence the myth that it cries out when pulled up. All parts of the plant are strongly narcotic.
Deadly nightshade (Atropa belladonna), Three of the sweet berries (known as Satan's cherries) are enough to kill.
Opium (Papaver somniferum), A narcotic obtained from the unripe seed pods of the opium poppy, below.
Foxglove (Digitalis purpurea), Used as a laxative in the 16th century but the entire plant is poisonous.


By Ian Herbert, North of England Correspondent, The Independent