Print this Page
Virtual Herbaria Under Development
ONLINE
10 November 2004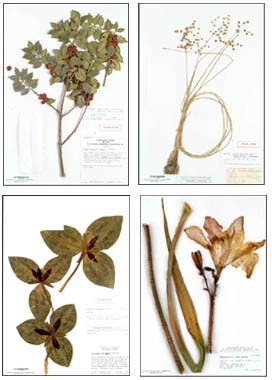 New initiatives involving botanic gardens, herbaria and arboreta in the USA, Australia and Papua New Guinea are working towards the creation of new on-line, virtual herbaria.


An Online Database of the Papua New Guinea Herbarium Specimens

The Papua New Guinea data repatriation project aims to develop a low-maintenance, cost-effective internet-accessible herbarium accession database (PNGplants) for use by the Papua New Guinea National Herbarium (LAE). Initially, the database has been populated by the repatriation of replicate electronic data of the LAE herbarium held at four major Australian herbaria: the Australian National Herbarium, the Queensland Herbarium, the National Herbarium of Melbourne and the National Herbarium of New South Wales.

The independent electronic records held at LAE will be accessible via the Plants of Papua New Guinea website, an extension of the Australia Virtual Herbarium (AVH) initiative. This consortium of herbaria has agreed to repatriate the electronic data of about 130,000 records from Papua New Guinea. LAE will become a joint contributor to the AVH project, together with the other major Australian Herbaria. Data will be used for:
mapping of species distributions
analysis of areas of endemism, species richness, and ecological preferences
environmental management decisions
analysis of botanical exploration within Papua New Guinea

This project is supported by the Global Biodiversity Information Facility (GBIF).
For further information, visit http://plantnet.rbgsyd.nsw.gov.au/PNGplants/
Information supplied by PAPGREN - the Pacific Agricultural Plant Genetic Resources network. http://papgren.blogspot.com
New "Virtual" US National Arboretum Herbarium Web Pages
The US National Arboretum Herbarium is one of a few in the world with a primary mission of supporting taxonomic research and identification of cultivated plants, including cultivars, hybrids, and other elite plant materials of use to man. To facilitate this research, the herbarium includes specimens not only of cultivated plants but also of their wild progenitors and is the official depository for documented specimens of United States Department of Agriculture plant introductions, including food, drug, forage, industrial, and forest plants.
The herbarium is a permanent reference collection of dried plant specimens necessary to taxonomic studies relating to agriculture, medicine, science, and education -- fields where documentation and correct identification of germplasm materials are essential. The arboretum has begun to electronically capture all of the data associated with each Type Specimen, Horticultural Cultivated Standard, as well as Specimens of Special Interest, to image these specimens, and to put all of this information on the internet. Although the project is not finished, what has been accomplished so far can be viewed on the website:

http://www.usna.usda.gov/#Research
 
Find Out More
Neotropical Herbarium Specimens
This site is an aid to the general identification of dried specimens of Neotropical plants. It will be most useful to professional biologists and others doing species inventories of natural areas, ecology, and ethnobotany. It's a desktop reference set of high-quality images of herbarium material.
Flora of China Online
Efloras brings together electronic floras into an online interface. Users can browse online floristic treatments by volume, family, and genus, and can search by name, distributional data, and text. With the use of web forms, editors and authors with permissions can correct and update the data.
The Internet Directory for Botany
The Internet Directory of Botany is an index to botanical information available on the Internet, compiled by Anthony R. Brach. It started as a personal bookmark list of botanical sites and is now a large resource for the botanical community.
Global Biodiversity Information Facility
Biodiversity and biodiversity information are essential to a sustainable future for society. GBIF is making recorded knowledge about biodiversity available to everyone using the Internet. Anyone with records of biodiversity can send data into GBIF to help build an online image of life on earth.