Print this Page
Witwatersrand NBG in Johannesburg South Africa Changes it's Name
SOUTH AFRICA
28 October 2004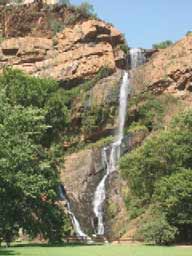 The Witwatersrand NBG in Johannesburg,South Africa officially changed its name to the Walter Sisulu National Botanical Garden on16 March 2004.
The garden is dedicated to the memory of Mr Walter Sisulu, the leader of the struggle for a democratic South Africa. The wide national and international recognition of the leadership role of Walter Sisulu was reflected in the tributes paid to him on his death in May 2003. Mr Nelson Mandela has repeatedly referred to Walter Sisulu as the real father of the new South Africa, a view shared by all who knew his life and times.The National Botanical Institute is pleased to be able to honour one of South Africa's greatest leaders in such a singular way.
E-mail info@sisulugarden.co.za
 
Find Out More
Food and Trees for Africa
The first and only national, public benefit, civil society greening and food gardening organisation in South Africa addressing climate change.