Print this Page
New Staff for BGCI-Russia
MOSCOW, RUSSIA
25th November 2004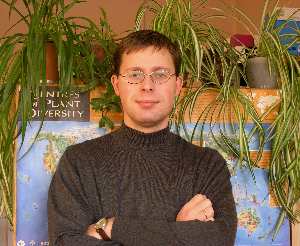 Nikita Mergelov, has recently joined BGCI's Russia office as Secretary. After graduating in Soil Science from Moscow State University in 2002, Nikita participated in various field expeditions studying the tundra and taiga ecosystems in European and Asian Russia.
Based at BGCI's Moscow office, Nikita is involved in organising workshops and translating key documents into Russian. He is also responsible for publishing the BGCI - Russia Botanic Gardens Council Newsletter, distributed to all Russian and CIS botanic gardens and other botanical institutions. Nikita is also working hard to complete his PhD thesis.
 
Find Out More
US-Russia Botanical Exchange Programme
Set up in 1972, when the US and Russia were locked in a hostile and escalating arms race, this program brought botanists together. Ever since, it has been facilitating the co-operation of US and Russian botanists through joint expeditions, conferences, seed exchange and plant conservation projects.