Global distribution of botanic gardens mapping applet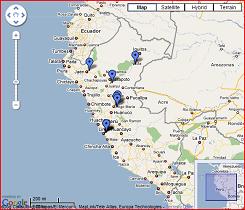 This tool can now be accessed by anyone and used to find the locations of some 2,500 botanic gardens around the world. Search via country to find your nearest botanic institution - our stunning satellite homepage image features the botanic gardens of Peru, also shown left in map format.
Using lattitude and longitude details nearly all the institutions in GardenSearch (both BGCI members and non-members) have been included. You can use the applet to locate botanic gardens near and far, or perhaps those in similar climatic zones. We'll be using the tool to promote botanic gardens and to celebrate their impressive global reach, relevance and vital contributions to plant conservation.
Some countries have the odd missing record, so this launch is also an appeal for data!
For example, Argentina has 38 botanic gardens for which we do not have accurate enough location details to be able to map. These 38 institutions are shown as red dots and centred on the UK.
This is also the case for: Ukraine (34 botanic gardens), Vietnam (6), Brazil (5), Uzbekistan (4), Myanmar (3), Serbia and Montenegro (2), Lao (2), China (2), Martinique (2), Japan (2), Virgin Islands (U.S.) (2), Tanzania (1), Algeria (1), Malaysia (1), Virgin Islands (British) (1) and Singapore (1).
You can also reach the mapping applet via PlantSearch or GardenSearch. Check back soon to see how the tool develops as we add more search options and use it to show BGCI project locations.
Many thanks to all the volunteers who painstakingly added longitude and lattitude data to make the development of this applet possible.