Latest News
Latest news in botanic gardens and plant conservation around the world is published here.
You may also want to:
16 October 2014
The importance of plants and the need to continue to support the Global Strategy for Plant Conservation (GSPC) was highlighted at the recent Conference of the Parties (COP) to the Convention on Biological Diversity (CBD).
Paignton Zoo, Devon, UK
7 October 2014
Paignton Zoo Environmental Park will host the next Botanic Gardens Education Network Conference 'Learning for Sustainable Development', 5th-7th November 2014, Devon, United Kingdom.
4 October 2014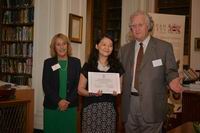 9月29日,BGCI 在伦敦林奈学会举行2014马什奖颁奖仪式,王西敏和郑乃员分别荣获2014年度"马什国际植物园教育奖"和"马什国际植物保护奖",BGCI中国办公室主任文香英女士代表两位中国获奖人领奖。
3 October 2014
After ten years of successful leadership, Sara Oldfield, the present Secretary General of BGCI is leaving to pursue new opportunities and the Board of BGCI, chaired by Professor Stephen Blackmore, is seeking to appoint a new Secretary General.
3 October 2014

A new report prepared by BGCI and published by the Convention on Biological Diversity (CBD) reveals that a set of 16 global plant conservation targets are unlikely to be met by 2020.
2 October 2014

Scientists from The Naturalis Biodiversity Centre and botanical garden Hortus botanicus Leiden have described a new orchid species collected during a field trip in 2003 to Papua New Guinea by Dr. E.F. de Vogel and Art Vogel
25 September 2014
Two new awards for conserving the world's imperiled flora have been awarded to Chinese botanists by BGCI on behalf of the Marsh Christian Trust.
18 September 2014
Montgomery Botanical Center just received an award to study Mission Based Collections Planning. Montgomery will partner with the USDA Agricultural Research Service Subtropical Horticulture Research Station and BGCI U.S.
9 September 2014
BGCI is undertaking a global survey of ex situ collections of Critically Endangered and Endangered tree species to prioritise species for incorporation into conservation collecitons. Upload your collection data to PlantSearch by November 1st 2014 to ensure the work of your institution is represented
8 September 2014
BGCI is pleased to welcome The Morton Arboretum as a new patron garden. The Morton Arboretum and BGCI have renewed their Memorandum of Understanding to work together on global tree conservation and The Morton has generously seconded a Global Tree Conservation Officer to work with BGCI.
Back to Top