Latest News
Latest news in botanic gardens and plant conservation around the world is published here.
You may also want to:
20 August 2014

The congress will feature panel sessions, workshops and poster showcases on a range of topics - to participate please contact the relevant person directly. We're also interested in your own ideas for sessions! Proposals must be recieved by the 15th of September, 2014.
19 August 2014

"Watering Our Roots to Grow Our Communities" is the theme of the 2015 American Public Gardens Association conference, which will take place from the 22nd to 26th June 2015 in the Twin Cities of Minneapolis and Saint Paul, Minnesota.
13 August 2014
A new overview and instructions for BGCI's globally unique databases of gardens and the collections they maintain.
8 August 2014
BGCI China is collaborating with Xishuangbanna Tropical Botanical Garden to restore a 'holy hill' near Mangyangguang village. Much of the original forest has been converted to rubber plantations. This article provides a summary of the project and progress so far.
4 August 2014
On the 23rd, 24th and 25th of October, botanic garden representatives and academics meet at the Loyola Sustainability Research Centre in Montreal for a conference to examine and evaluate the role of botanic gardens in biodiversity conservation.
29 July 2014
第九届BGCI植物园教育国际大会将于2015年4月26日至5月1日在美国密苏里植物园举办。欢迎来自世界各地植物园、植物保护机构的教育工作者参加。
24 July 2014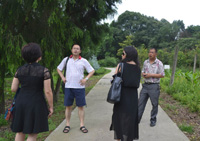 2014年7月15日文香英女士再次访问成都市植物园并在科普组刘川华老师的陪同下参观了整个园区,并就几年来该园的工作进展以及BGCI的活动情况进行了交流。
17 July 2014
Oxford University Press announces the publication of The Flora of North America North of Mexico; Volume 28: Bryophyta, Part 2. This volume will be available in September 2014 and includes treatments prepared by 44 authors covering 698 species in 206 genera classified in 48 families.
16 July 2014

"Caucasus. Plant Biodiversity between the Black Sea and the Caspian Sea" is this year's special exhibition in Berlin's Botanic Garden and Botanical Museum.
16 July 2014

Grow Wild is a four year "mass participation programme" , providing funding to gardens and gardening groups and sharing native plant seeds to help community togetherness and inventiveness flourish, whilst benefitting bug biodiversity.
Back to Top