Latest News
Latest news in botanic gardens and plant conservation around the world is published here.
You may also want to:
21st May 2013
BGCI's Secretary General, Sara Oldfield has been awarded an Institutional Honorary Doctorate by the University of Ghent, Belgium.
10th May 2013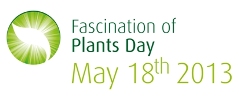 Botanic gardens, museums, science centres, universities, schools, and many others worldwide will all be celebrating the wonders and importance of plants on Saturday 18th May 2013 for the second ever international "Fascination of Plants Day" (FoPD), whihc coincides with Plant Conservation Day
1st May 2013
Botanic gardens are involved in a wide range of activities that have relevance to the growing food security crisis. Complete our survey to tell us what you are doing
26th April 2013

Erythrina schliebenii is a Critically Endangered tree species endemic to Tanzania. This charismatic and beautiful species was thought to be Extinct. Recently rediscovered, E. schliebenii is now in cultivation and a ceremonial planting is planned for next year.
26th April 2013

Arbor Day is an opportunity to highlight and celebrate the importance of trees to our lives and promote tree planting and care. Read more about Arbor Day and planned activities in arboreta across the USA.
25th April 2013

BGCI, RBG Edinburgh & the Rhododendron Specialist Conservation Group jointly hosted a conference to develop an action plan to save threatened Rhododendrons. The conference brought together the most knowledgeable & influential group of international Rhododendron experts ever assembled under one roof.
24th April 2013
Julia Willison, BGCI's Director of Education, traveled to Syracusa, Sicily, to participate in the Conference 'GARDMED, the network of Mediterranean Gardens' from 5-6 April.
23rd April 2013
BGCI would like to thank the Taipei Representatives Office in the UK for its generous donation of $8,000 towards the Ecological Restoration Alliance
22nd April 2013

How can growing your own vegs bring communities together, generate environmental change and feed the world? Saturday 1st June, 10am-5:30pm at Royal Botanic Gardens, Kew, join scientists, writers, award-winning gardeners and green-fingered experimenters to discover the future of food.
Back to Top