ONE PLANET - OURS! SUSTAINABILITY FOR THE 22ND CENTURY
This posting is no longer current. Please check out our Events & Meetings for the latest postings.
24 May -13 October 2008
Washington DC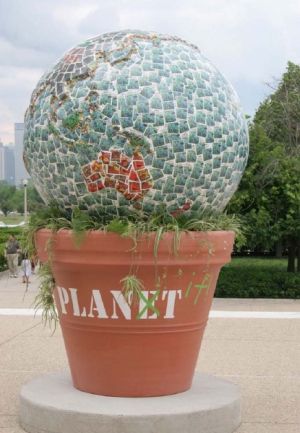 Be Inspired by Douglas Hoerr is a "Cool Globe"
comprising 2,000+ seed packets

Image © USBG

SUMMER EXHIBITION TO OPEN MAY 24 AT U.S. BOTANIC GARDEN

This year the United States Botanic Garden's ever-popular summer exhibition will focus on sustainability - not only how it applies to gardens and the landscape, but also how each of us and our communities can live for tomorrow, as well as for today.

One Planet - Ours! will showcase garden displays on the Conservatory Terrace and interpretive and sculptural displays in the National Garden and Bartholdi Park. The U.S. Botanic Garden has once again invited other organizations from around the country to participate in the exhibition: One Planet - Ours! will feature government agencies, non-governmental organizations, and individuals who are leading efforts toward sustainable lifestyles.

BGCI's exhibit on Plants in a changing climate (in the rare and endangered plant room in the conservatory) joins those of many other organizations, including the United Nations Environment Programme (UNEP), U.S. Department of Energy, American Horticultural Society, U.S. Environmental Protection Agency, Longwood Gardens, National Wildlife Federation, and many more.

Tying it all together will be "Cool Globes," an exhibit of more than 40 sculptures of "wholeearth" solutions to the problems of living unsustainably (see attached image). The One Planet - Ours! exhibition opens on May 24 and will remain on display through October 13, 2008.

The U.S. Botanic Garden Conservatory and the adjacent National Garden are open to the public, free of charge, every day from 10 a.m. to 5 p.m. Bartholdi Park is open every day from dawn to dusk. Our Conservatory is located at 100 Maryland Avenue SW, on the west side of the U.S. Capitol. Visitors are encouraged to take Metrobus and Metrorail. Further information is available by calling 202-225-8333 or visiting www.usbg.gov.