GIS/IT Workshop
8 - 9 November 2007
MISSOURI BOTANIC GARDEN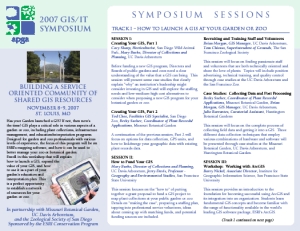 Has your Garden launched a GIS? If not, then now's the time! GIS plays a critical role in the visitor-centered Garden. This program is designed for professionals with various levels of experience, working in the areas of IT, collections, horticulture, plant records, and infrastructure management. The focus will be on the technology that is here today and that will be here in the future. Enroll in this workshop that will explain how to launch a GIS, as well as expanding the value of your GIS and using it as a part of your garden's education and interpretation plan. This is a perfect opportunity to establish a network of resources for your garden.

We are pleased to attach the registration brochure for the GIS/IT Workshop hosted by the Missouri Botanical Garden, November 8th – 9th. You can register online today by visiting the professional development area under events on our website, or print, complete and fax the registration to (302) 655-8100.
Download the Registration Brochure (PDF 252KB)

Please contact Sharon Malgire, Meetings Manager at (302) 655-7100, ext. 18, or Sarah Maietta, Office Manager, at (302) 655-7100, ext. 11, in the APGA office with any questions regarding registration.A portion of this program has been underwritten by the ESRI Conservation Program. You will notice this in the reduced registration fee.

We look forward to seeing you in Missouri!


The Darwin Technical Manual for Botanic Gardens
A clear and concise technical handbook for the management of botanic gardens bringing together current knowledge and practice of managing a botanic garden. Packed with detailed information on everything you need to know about creating and running a botanic garden, this is a unique resource.

Tech Tools
Technological advances are making it easier than ever to communicate and find information. We have gathered some tools and tips you might find useful in your quest to reach out to colleagues and find the information you want.