Meeting the Challenge of the Global Strategy for Plant Conservation
7- 9 November 2007
WALES
BGEN's Annual Conference, 7th - 9th November 2007, at the National Botanic Garden of Wales, will look at the way in which garden communicators can work effectively with other partners to deliver better biodiversity education.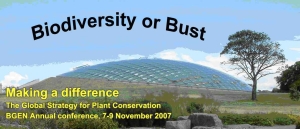 This year's themes will explore:

Biodiversity – for food security
Biodiversity – for our health and wealth
Biodiversity – the threat from rapid climate change
The Conference will explore how we can better deliver the education and public awareness target of the Global Strategy for Plant Conservation.
The Conference will include talks on the key objectives of the strategy.
Speakers will include:

Peter Wyse Jackson – National Botanic Garden, Glasnevin
Mike Fay – Royal Botanic Gardens, Kew
Chris Cheffings – Joint Nature Conservation Committee
Jayne Manley - Plantlife
Deborah Long - Plantlife
Workshops will focus on issues such as

Climate Change
Fair Trade
Native Flora
Gardening for Biodiversity
Alien Weed Species
Environmental Procurement
Food Security
Implementing the GSPC through Education
For more information, details of costs and accomodation, visit the BGEN website.

Education resources
One of BGCI's key work areas is in Education - the provision of materials for people in botanic gardens to use in their education programmes of all kinds. This section is here to support botanic garden and other environmental educators in their work, so we can all see plant diversity flourishing.

Find Out More
Botanic Gardens Education Network
The Botanic Gardens Education Network (BGEN) promotes and advances the delivery of education in member organisations. We have over 200 members. Most are educators in botanic gardens and other centres of environmental education within Britain and Ireland.