Linnaeus Tercentenary: Prince Interprets the Gardens and More...
This posting is no longer current. Please check out our Events & Meetings for the latest postings.
Through 2007
Uppsala, Sweden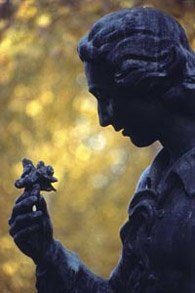 The Museum Gustavianum is celebrating the Tercentenary of the birth of Linnaeus by hosting the exhibition "A Glimpse of Paradise: Prince Carl Philip Interprets the Botanical Garden in Uppsala."

Prince Carl Philip presents a photographic portrait of the Botanical Garden where the legacy of Carl Linnaeus springs eternal. His guide is the world-renowned photographer and Uppsala resident Mattias Klum.

In the 18th century, the Gustavianum was the main building of Uppsala University, and Carl Linnaeus held innumerable lectures there. Today this edifice is the University Museum, and the theme for the Tercentenary Year is Linnaeus as a Teacher. To transmit knowledge in an inspiring manner is a difficult art, according to the Museum's director, Ing-Marie Munktell. But Carl Linnaeus was a master.

"We are truly delighted to welcome Prince Carl Philip to Museum Gustavianum, with his interpretation of the Botanical Garden," says Ing-Marie Munktell.

"The Botanical Garden will be the heart of the 2007 Linnaeus Tercentenary. We are happy to have a chance to show off our exquisite gardens and are also proud that the prince has chosen to take part in the celebrations in this way," says Anders Hallberg, Vice-Chancellor of Uppsala University.

The pictures also form the basis of a book about the Botanical Garden that Uppsala University has taken the initiative for ahead of the 2007 Linnaeus Tercentenary. The authors are Karin Martinsson and Magnus Lidén. The book and the exhibition have been designed by the artist Michel Östlund, together with Prince Carl Philip.

"A Glimpse of Paradise: Prince Carl Philip Interprets the Botanical Garden in Uppsala" will be on display at Museum Gustavianum in Uppsala from May 30 through October 15, 2007.

There will be additional events held through the year, at the Uppsala University Botanic Gardens where they have a Linnaeus Garden built to Linnaeus' own design, and the Linnaeus Hammarby Estate where he lived.