The Darwin Technical Manual for Botanic Gardens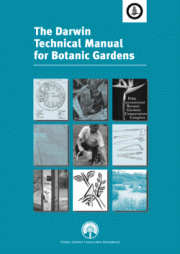 A clear and concise technical handbook for the management of botanic gardens bringing together current knowledge and practice of managing a botanic garden. Packed with detailed information on everything you need to know about creating and running a botanic garden, this is a unique resource.
The manual was developed in 1998 as part of a project funded by the Darwin Initiative, and is given to all new Botanic Garden Members as part of the Botanic Garden Resource Pack.
Click here to see a Table of Contents
Order your copy now for only £14.00 plus post and packaging
alternatively you can purchase it via our Amazon shop by clicking here.
Citation:
The Darwin Technical Manual for Botanic Gardens - Etelka Leadlay and Jane Greene (eds), 1998 Botanic Gardens Conservation International (BGCI), London, U.K. ISBN 09520275 6 9
Good Practice Example: Sharing Experience

This is taken from the The Darwin Initiative website where it showcases the Manual as a model of a successful project.

Botanic Gardens Conservation International (BGCI) has established an extremely effective international network of botanic gardens around the world. Through this network BGCI are aware that the literature concerning practical aspects of garden management and collection maintenance is extremely dispersed and often inappropriate and difficult to access, particularly for institutions in developing countries. In response to the many requests for information, BGCI drew on its expertise to produced a Technical Handbook. The Manual was written in collaboration with 87 people from 22 countries and brings together the current knowledge on the theory and practice of managing botanic gardens. The contribution from so many different individuals and groups was considered essential to ensure the Manual would reflect good practice and be useful and relevant to as many botanic gardens as possible. This is an excellent publication that is currently available in French, Spanish and English and has been distributed to over 500 botanic gardens worldwide.