Cuttings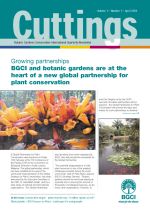 Cuttings is no longer being published. Instead, please subscribe to our email newsletter Cultivate.
Cuttings was our twice yearly newsletter on all things related to BGCI, botanic gardens and plant conservation.

Produced in full colour, each issue includes featured articles, worldwide news, events and discussion on topics affecting botanic gardens.
View a sample issue of Cuttings (PDF 514kB)


Roots Education Review
Roots is a unique journal dedicated to environmental education for site-based practitioners. With fascinating articles from authors worldwide, and packed with useful resources, it's full of ideas, techniques and inspiration for your own education work. Find out more about Roots here.