Print this Page
Building an International Sentinel Plant Network
Volume 8 Number 2 - July 2011
Andrea Kramer and Abby Hird
Introduction
Invasive plants, pests and pathogens are among the greatest threats to the world's biodiversity and they pose a significant threat to global economic health (Pimentel et al., 2005), with estimated costs of US$350 billion annually (Sheppard 2003). Botanic gardens play an important leadership role in protecting the world's plant diversity and minimizing the impact of invasive species. Many botanic gardens and arboreta work individually and collaboratively to address invasive species issues by: 1) educating visitors about invasive plant, pathogen, and insect species; 2) monitoring collections to evaluate the invasive potential of introduced plant species in new climates and sharing information with relevant stakeholders; 3) monitoring collections to identity potentially new invasive pests or pathogens; 4) working with relevant stakeholders to contain, control, and raise awareness about invasive species; and 5) helping public and private partners identify alternative non-invasive plant species. Given the scope and acceleration of invasive species problems, there is a need for botanic gardens to continue to expand their leadership role in addressing invasive species. Here, we describe how the formation of an International Sentinel Plant Network will facilitate this; share results of a worldwide survey to identify resources and expertise for a Sentinel Plant Network; and describe the steps that BGCI and the botanic garden community can take to move the idea of an International Sentinel Plant Network (ISPN) from a concept to a reality.
An International Sentinel Plant Network
It is estimated that 30-40% of known plant species are grown in living collections of the more than 2,500 botanic gardens and arboreta throughout the world. Often, species are maintained at gardens not in the country or even on the continent in which they are native. This presents a significant opportunity to understand and predict when and where species may become invasive pests, or when and where they may be susceptible to other pests (e.g., fungus and insects).
"An International Sentinel Plant Network has been proposed as a formal structure under which gardens can act individually and collectively to increase the predictive power of their collections, and to engage other partners who can use this information".
Specifically, it has been proposed that botanic gardens and arboreta from around the world work together to form an ISPN, where living plant collections information is dynamically connected and capable of serving as an early warning system to predict, detect, and prevent the incursion of new invasive pests (insects, plant pathogens, or invasive plants). The idea of a sentinel network focused on invasive species is not new, and in a few cases model programs (such as New Zealand's expatriate plant pilot program) have been successfully implemented on a national scale (see Britton et al., 2010 and Box 1).
A clear example of why an ISPN could help mitigate environmental and economic costs via early detection and prevention of new pests comes from the 2002 discovery of the Emerald Ash Borer in Michigan, United States. The infestation of this beetle (native to Asia) was not identified in time to eradicate it and prevent its spread, and its range is now rapidly increasing throughout the United States and Canada. After only five years, over 53 million native ash trees (Fraxinus spp.) were killed by the beetle, and in the next ten years the infestation is predicted to cost an estimated $10.7 billion to treat, remove, and replace the more than 17 million planted ash trees likely to be killed in urban areas alone (Kovacs et al., 2010). In hindsight, if an ISPN had been in place, botanic gardens in Asia growing North American ash species potentially could have reported any unusual insect damage, and the extreme susceptibility of North American ash trees to the Emerald Ash Borer could have been predicted and measures put in place to monitor and eradicate occurrences before they became too large to control. Further, a monitoring network of gardens and garden visitors in the United States may have helped detect the pest early enough to eradicate it.
Below, we present results of a recent global survey aimed at identifying current capacity to monitor for potentially new and invasive insects, plant pathogens, and plants in the botanical community, and discuss key steps botanic gardens and arboreta around the world can take to be a part of establishing an ISPN.
BGCI's International Sentinel Plant Network Survey
Support from the U.S. Department of Agriculture allowed BGCI to develop and carry out an electronic survey during the spring of 2011 to learn more about the relevant expertise and policies in place at botanical institutions around the world that could help form the basis of an ISPN. This survey was available in English, Chinese, and Russian, was open for three months, and was advertised through email, list serves, and other websites and newsletters. In total, 204 respondents from 146 botanical institutions in 15 countries completed the survey. Results revealed a solid foundation of expertise, resources, partnerships and practices already in place to understand and address invasive species problems at individual institutions, but a need for more formal or regular training and enhanced communication and coordination among institutions in order to increase the power and impact of the network.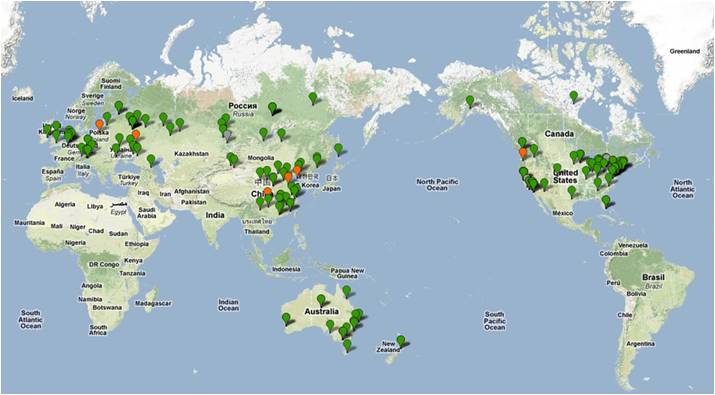 Figure 1: Map of 146 institutions responding to the ISPN survey. Colors indicate whether institutions offer assistance with pest, pathogen or plant identification to visitors (yes = green, no = orange, gray = don't know). Ninety percent (90%) of responding institutions provide assistance on these topics.

Survey Results

Policies and Programs
Sixty five percent (65%) of responding institutions have invasive species policies or programs in place to help minimize the risks posed by insect pests, plant pathogens, or potentially new invasive plants. An additional 29% don't yet have invasive species policies or programs in place, but would like to.
Monitoring
Nearly 96% of responding institutions monitor collections 'regularly' or 'whenever possible' for insect pests, while nearly 89% monitor for plant pathogens and 88% monitor for invasive plants (Table 1).

Table 1


Staff and Resources
Some 57% of respondent institutions provide their staff with regular training about pests, pathogens and/or potentially new invasive plants. An additional 37% don't yet, but would like to. Many respondents said they had adequate staff and resources to identify insect pests (85.0%), plant pathogens (70.0%), and invasive plants (87.3%), but many could use more, particularly to identify plant pathogens (Table 2).

Many respondent institutions employ expertise to identify and address invasive species, including in the fields of horticulture (86.8%), plant taxonomy (74.3%), entomology (35.4%), plant pathology (29.2%), and mycology (16.7%) (Figure 2).

Figure 2
Outside Resources and Partners
Most respondent institutions also utilize outside resources or partners to assist in identification of insect pests (82.5%), plant pathogens (82.0%), and invasive plants (59.7%). Many institutions partner with universities or government agencies for identification (Table 3); a few institutions utilize volunteers.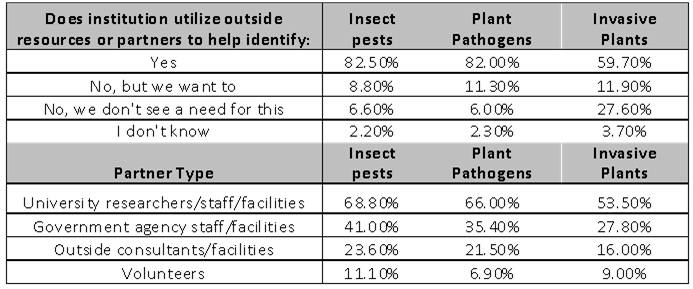 Information Sharing
Most institutions reported sharing information on insect pests, plant pathogens, and invasive plants found in their living collections with others at least sometimes, while several institutions don't currently share this information, but would like to do so in the future (Figure 3).

Figure 3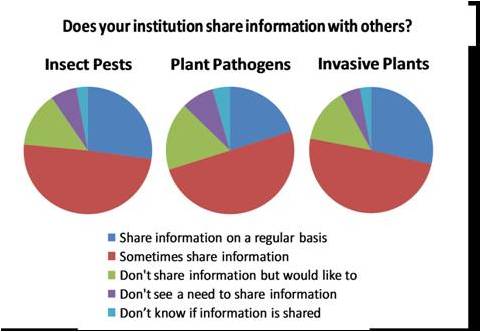 BOX 1: Examples of what botanic gardens and networks are doing to address invasive species
Insect pests and plant pathogens
• With support from the US Department of Agriculture, the American Public Gardens Association is working with the National Plant Diagnostic Network to engage public garden professionals, volunteers, and visitors in the detection and diagnosis of high consequence pests and pathogens: www.publicgardens.org/content/sentinel-plant-network.
• The Morton Arboretum's online Plant Health Care Reports provide detailed monthly updates on the occurrence of pests and pathogens on their collections and in the Chicago area: www.mortonarb.org/tree-plant-advice/category/97/plant-health-care-reports.html.
• The Royal Botanic Gardens Melbourne has developed a Pest Database, Biosecurity Policy, and Weed Strategic Plan to provide principles and practices that reduce the risk of new pest introductions to and from its landscape: www.rbg.vic.gov.au/horticulture/environmental-management/biosecurity and 7-13 in this issue.
Invasive plants
• The European Botanic Gardens Consortium shares information and policy on potentially invasive alien plants in botanic gardens: http://plantnetwork.org/ebg-consortium/alien-plants/
• The Chicago Botanic Garden has endorsed the Voluntary Codes of Conduct for Botanic Gardens and is implementing the Codes as detailed in its invasive plants policy: www.chicagobotanic.org/research/conservation/invasive/policy.php.
• The Australian Botanic Gardens Weed Network was established in 2003 and includes 75 member institutions that developed common invasive plant policies and procedures, as well as a weed risk assessment procedure and management software (Spencer et al., 2006): www.bganz.org.au/resources.
• In the U.S., staff at the University of Washington Botanic Garden and Montgomery Botanical Center have partnered with others to develop a Weed Risk Assessment for botanic garden decision making: www.bgci.org/files/Dublin2010/papers/Husby-Chad.pdf.
How your institution can get involved
Locally
Be aware that identification of insect pests, plant pathogens, and invasive plants is an important and often limiting resource in invasive species work. Identify partners with complementary needs and resources and find ways to work together to address current invasive species problems in your community while predicting and preventing future invasive species.
Use your living collections to support research on invasive species if you have the resources to do so. If not, make your collections available to support the research of other collaborators and partners.
Regionally and Nationally
Become involved in current invasive species programs or consider starting a program with partners. Introduce yourself to your state/provincial agencies involved with invasive species monitoring and prevention, and communicate regularly with them on any suspicious insect, pathogen, or plant detected in your living collection.
Globally
Update your institution's collections information in PlantSearch to facilitate communication, collaboration and research using your living collections. It is quick, easy, and FREE. Every living collection, large and small, can help support collections-based research and collaboration for threatened as well as invasive species by uploading a simple spreadsheet of taxa maintained in living collections to BGCI'S PlantSearch database. Additional instructions can be found here: www.bgci.org/usa/plantsearchinstructions.
Use PlantSearch now to connect directly to other living collections managers on a species-by-species basis. For example, use PlantSearch's request function to ask other garden staff if they have detected certain pests on a specific plant, or if they have seen invasive characteristics in certain plant species in certain environments.
Finally, make sure your institution's GardenSearch profile is up-to-date (www.bgci.org/garden_search.php), especially if you maintain resources, expertise, and policies relevant to an ISPN (see Figure 2). Future updates to BGCI's databases will allow users to access information about specific resources, expertise, and eventually plant collections at gardens around the world. This information will help form the basis of an International Sentinel Plant Network, and allow us to deliver tools, information and updates to appropriate staff at botanical institutions.
Conclusion
There is a great need for action to prevent the economic and environmental impacts of future insect pests, plant pathogens, and invasive plants, and botanic gardens around the world have the resources and expertise to help. An International Sentinel Plant Network can make this work more coordinated and impactful by supporting and expanding current efforts to monitor and connect collections, share information, and collaborate at local, regional and global levels.

Acknowledgements
Thanks to all survey respondents, and to Suzanne Sharrock, Xiangying Wen, Igor Smirnov, Nikita Mergelov, Mikhail Romanov, Ekaterina Eglis, and Brigitta Wimmer for assistance with survey distribution and translation in Europe, Australia, China and Russia.

References
BRITTON, K. O., WHITE, P., KRAMER, A., and HUDLER, G., 2010. A new approach to stopping the spread of invasive insects and pathogens: early detection and rapid response via a global network of sentinel plantings. New Zealand Journal of Forestry Science 40: 109-114.
KOVACS, K. F., HAIGHT, R. G. , MCCULLOUGH, D. G. , MERCADER, R. J. , SIEGERT, N. W. ,and LIEHOLD, A. M., 2010. Cost of potential emerald ash borer damage in U.S. communities, 2009-2019. Ecological Economics 69: 569-578.
PIMENTEL, D., ZUNIGA, R., and MORRISON. D., 2005. Update on the environmental and economic costs associated with alien-invasive species in the United States. Ecological Economics 52: 273-288.
SHEPPARD, A. W., HILL, R., D.-F. R.A., MCCLAY, A., OLCKERS, T., Q. Jr.P.C., and ZIMMERMANN, H. G. 2003. A global review of risk-benefit-cost analysis for the introduction of classical biological control agents against weeds: a crisis in the market? Biocontrol News and Information 24.
SPENCER, R. D., PRESTON, C., WATTS, J. H., and CROSSMAN N. D., 2006. Managing weeds in Australian botanical gardens. Proceedings of the 15th Australian Weeds Conference, eds C. Preston, JH Watts and ND Crossman: 679-682

Andrea Kramer
BGCI US at Chicago Botanic Garden
1000 Lake Cook Road
Glencoe,
IL 60022
USA
Abby Hird
BGCI US at the Arnold Arboretum of Harvard University