Tourism For Survival
Volume 1 Number 1 - April 2004
John Leach
| | |
| --- | --- |
| | |
| | |
Being located on an island with a small local population we quickly realized that the only way to satisfy our mission and be financially self-sustaining would be to adapt Andromeda Botanic Gardens to the needs of the tourism market as a first-rate visitor destination. This would have to be without compromising the other aspects of our mission, namely education, research and conservation.

By 1998 Andromeda Botanic Gardens had developed a strong image as a serious botanical institute and was recognized both locally and internationally as a centre for tropical horticultural knowledge and training. However, the garden was financially in bad shape, admissions were down and it became dependent primarily on the good will of wealthy visitors to the island to keep it open. Running costs had not been covered in years and expenditure on the garden was primarily based on available funds rather than on need. Wear and tear was degrading the infrastructure.

A change of direction and management charted a new course towards self sustainability. This article describes this course and explains how tourism has enabled the garden to survive. It also highlights how effective tourism can be in educating people about important issues concerning botanic gardens and people living on small tropical islands.

The History of Andromeda Botanic Gardens
Andromeda Botanic Gardens were founded around 1954 by the late Iris Bannochie. Situated on a hillside overlooking the rugged east coast of Barbados, the gardens were created on eight acres of land that had been in her family since 1740. The garden's collections were built through Iris Bannochie's inexhaustible reserves of energy and enthusiasm, fuelled by her travels around the world collecting plants, and through donations and trading of exotic specimens with gardening friends and enthusiasts. In the years following 1964 she became the undisputed leader of horticulture in Barbados. She became president of the Barbados Orchid Society and Horticulture Society, Deputy Chair of the Parks and Beaches Commission, Chair of the National Conservation Commission and a founding member of the Barbados National Trust. During this time the garden expanded and developed an international reputation.

In 1988 Iris Bannochie died and left Andromeda to the Barbados National Trust under strict stipulations from her estate. In accordance with the "Bannochie will" Andromeda adopted a new mission and became known as Andromeda Botanic Gardens. The mission as adopted includes:

To maintain and improve Andromeda in the spirit with which Iris Bannochie created them.
To educate and train horticulturists and gardeners in the art, science and craft of ornamental horticulture; to educate the public about the value of plants and gardens to their lives; to show visitors both the beauty and importance of tropical plants and gardens.
To further the research in tropical horticulture and the conservation of regional tropical flora.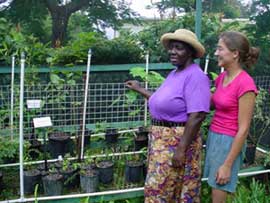 Securing the Future

Andromeda Botanic Gardens is located on an island with a small local population. For this reason, we quickly realised that the only way to satisfy the mission of the gardens and to be financially self-sustaining would be to adapt the gardens to the needs of the tourism market and become a first-rate visitor destination. This move would have to be made without compromising the other aspects of the gardens' mission, namely education, research and conservation.

In many ways this may seem to be a conflict of interest. Can we truly classify ourselves as a serious botanical institution or are we really a fancy visitor attraction? Can we accommodate the required number of visitors per year to allow for financial viability without destroying the collections we are conserving? Who are we really educating: locals or tourists? Are we disseminating information about sustainable development, bio-diversity issues or gardening, or are we just being entertaining without any real focus or goal? Maybe we are we just trying to keep alive the legacy of a very important Barbadian.

Shortly after taking control of the property, the Barbados National Trust wisely pursued a mutually beneficial relationship with the Biology Department of the University of the West Indies. This allowed access to grants to fund a Chair in Tropical Horticulture at the University, who would then take the position of Director of Education and Research at Andromeda Botanic Gardens. This position is currently held by Dr Jeff Atherton, who has years of experience in horticultural research. The new education department at Andromeda developed a series of improvements for interpretation at the garden – plant labels were produced and a set of comprehensive guide sheets developed to help interpret the collections. Visitors were interviewed at random to determine what interested them and to find out their reaction to the interpretation. Modifications were carried out annually based on these findings. Gardening and basic horticulture courses offered to the public were always over subscribed and a weekly newspaper column on gardening was initiated with the local press. Conservation research was also carried out, including a comprehensive study on the grasses of Barbados, research on the biology and propagation of three rare and endangered local plants and studies on Heliconia species held in the Heliconia Conservation Germplasm Collection.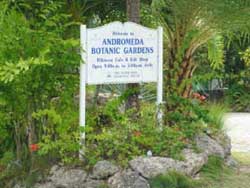 By 1998 Andromeda had developed a strong image as a serious botanical institute and was recognized both locally and internationally as a centre for tropical horticultural knowledge and training. However, after ten years of focusing primarily on the botanical side of our mandate it became very clear that we were not achieving our goal of reaching financial self-sustainability - in fact we were operating under an increasing deficit. Admissions were down and we became dependent primarily on the good will of wealthy visitors to the island to keep the garden open, with assistance from donations to the Barbados National Trust. By this time, running costs had not been covered in years and expenditure on the garden was primarily based on available funds rather than on need. Wear and tear was degrading the infrastructure. This set off a chain reaction; the garden was slipping aesthetically, labels and signs couldn't be replaced, visitor numbers were falling and it became increasingly difficult to find corporate sponsorship for educational activities. Success with our education, research and conservation programs was not enough to help us pay the bills and keep the facility open to the public. This prompted a change in thinking.

Self-sustainability became our priority. Andromeda's image as a centre for horticultural knowledge and expertise, allowed us to develop a successful horticultural property management and consultancy service. The funds generated helped to subsidise the garden's running costs and allowed us some time to address visitation issues, marketing and ultimately the garden's ability to become self sustainable.

We found that more than 95% of all visitors were tourists and 80% of these were from the cruise ships. Passengers were primarily American and British sailing out of the USA and were only on the island for one day. Visits would be limited to 45-60 minutes and peak times would be early morning and evenings (i.e. twice daily). It became evident that shorter trips were more attractive (rather than longer full day tours) and sold best. Most of the visitors that chose garden tours had an active interest in gardening and plants; but had a relatively short attention span due to the heat and humidity.

Following discussions with the cruise ship tour operators it was clear that the garden had to be upgraded; the interpretative guide sheets were adjusted to follow a shorter and easier path through the garden, and we needed to sell ourselves more aggressively. We increased our entrance fee from $12 to $15 Barbados, at the same time offering discounted rates to registered tour companies. We redesigned a path through the garden specifically for tour company traffic, using a specially created interpretation sheet or a guide. We opted for more practical and interesting stories and tips, like alternative uses for some of the plants, their ecological and historical significance, and issues such as the conservation of biological diversity and sustainable development.

This proved successful - once again Andromeda was receiving great reviews from visitors. Weekly reports back to the tour operators from the cruise ship representatives identified Andromeda as a top rate attraction that was 'attractive, entertaining, and informative, with good facilities'. One tour company, new to Andromeda, subsequently structured a tour using Barbadians trained by our staff to interpret the collections effectively. Visitors were delighted with this new approach. We started receiving requests for personalised tours for garden enthusiasts, and, although we run 10 per year, we are still over-subscribed.

Visitor numbers are once again on the increase and for the first time in 10 years we are seeing an improvement in our financial position. In addition, the Research and Education Department has accepted a post graduate student, a seconded secondary school teacher from the Ministry of Education, to study the educational potential of the garden for school children and teachers. An internet web site is also under construction (http://andromeda.cavehill.uwi.edu)

In our circumstances there are few options, we have to rely on tourism to survive. Over the years the Government and people of Barbados have recognized that we are an important component of the national tourism plan. To survive a fluctuating tourism market we have to keep responding to the ever changing and increasing demands of tour operators and the tourist industry, but this lends us the opportunity to keep the gardens open and secure for future generations. One important aspect of this relationship with mass tourism is that we have access to a captive audience of 25,000 people a year, who pay to be given the opportunity to learn about issues important to botanic gardens and tropical small island people. We believe this can be a very effective means to educate people, particularly if a balance is established between the delivery of important information and being creative and entertaining.

Our long-term goal is to reach 40,000 people per annum. This would allow us to become self-reliant, with a financial buffer to cover unexpected decreases in visitor numbers and allow continued growth and development through reinvestment in the physical infrastructure. In achieving this goal we must be careful not to place excessive stress on a garden already stretched with 25,000 visitors per year. We are currently facing the challenge of attracting visitors in off peak hours and the low season, possibly by directing more emphasis towards the land-based tourism industry rather than the cruise ships. If we can secure this, then the future for Andromeda looks good; we will have achieved our mission and Iris Bannochie's dream.

Résumé
Situés sur une île avec une population locale peu importante, nous avons rapidement réalisé que la seule façon d'assurer notre mission et d'être financièrement autonomes serait d'adapter Andromeda aux demandes du marché du tourisme, comme une destination de voyage de 1er choix. Tout cela devrait être mené sans compromettre les autres aspects de notre mission, c'est à dire l'éducation, la recherche et la conservation.

En 1998, Andromeda avait déjà acquis une bonne réputation d'institut botanique sérieux, reconnu localement et internationalement comme un centre de recherche et de formation pour l'horticulture tropicale. Cependant, le jardin était financièrement mal en point, les entrées étaient en baisse et sa survie dépendait du bon vouloir de riches visiteurs de l'île. Les frais de fonctionnement n'étaient pas couverts depuis plusieurs années et les investissements dépendaient principalement des fonds disponibles plutôt que des besoins du jardin. L'usure commençait à laisser ses marques sur l'infrastructure.

Un changement de direction et de gestion a dessiné un nouveau chemin vers l'autonomie. Cet article décrit ce chemin et explique comment le tourisme a permis au jardin de survivre. Il souligne également combien le tourisme peut être efficace pour éduquer les gens sur des questions importantes concernant les jardins botaniques et sur les populations de petites îles tropicales.

Resumen
Al estar ubicados en una pequeña isla y con una reducida población local, nos percatamos de que la única manera de satisfacer nuestra misión y autosostenernos financieramente, era adaptar Andrómeda a las necesidades del mercado del turismo promocionándola como destino primordial. Esto sin comprometer los otros aspectos de nuestra misión tales como educación, investigación y conservación.

En 1998 Andrómeda desarrolló una fuerte imagen como un instituto botánico serio y reconocido tanto local como internacionalmente como centro de desarrollo y capacitación de horticultura tropical. Sin embargo, el aspecto financiero del jardín era malo, las admisiones eran bajas y su existencia dependía de la buena voluntad de algunos donadores. Los costos anuales no se cubrían y por años los gastos del jardín se cubrían más por los fondos disponibles que por lo realmente necesario. El uso y desperdicio estaban "cobrando aduana" sobre la infraestructura.

El cambio de dirección y manejo proyectó un nuevo camino hacia la autosustentabilidad. El artículo describe este camino y explica cómo el turismo ha permitido al jardín botánico sobrevivir. También destaca qué tan efectivo puede ser el turismo para educar a la gente sobre importantes aspectos relacionados con los jardines botánicos y los habitantes de pequeñas islas tropicales.
About the Author
John Leach is the Manager of Andromeda Botanic Gardens
Bathsheba, St.Joseph,
Barbados.

Tel/fax 246 4339384 or 246 4225014
E-mails abg@caribsurf.com