Water Twice Daily - Conserving and Cultivating Medicinal Plants in Ghana
Volume 3 Number 8 - June 2002
Fiona R. Dennis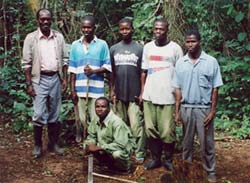 BGCI in collaboration with the Aburi Botanic Gardens, Ghana has completed a three-year project, Conserving and cultivating medicinal plants in Ghana. The project was generously funded by the U.K.'s Community Fund (formerly the National Lotteries Charities Board). The project reached its conclusion in June 2002 and we are pleased to announce that the work has far exceeded the intended objectives of the original proposal.

The objectives were firstly to establish a medicinal plant display garden at the Aburi Botanic Gardens, with a public trail and interpretation to promote interest in the conservation and sustainable harvesting of these species in the wild and secondly, to promote home gardens for the cultivation of medicinal plants in local villages to relieve pressure on these plants in the wild.

By establishing a Project Advisory Committee of local experts who had knowledge of medicinal plants and their application, the Project Team were able to use sound local knowledge and build upon a local support network for the project. Representatives from three villages contributed their knowledge, time and expertise to the project.
The Committee members travelled every month to the Aburi Botanic Gardens to attend meetings and invited the Committee in turn to their villages. They played an invaluable role in linking the project to their home villages and worked tirelessly to promote the establishment of home gardens within their own communities. Additionally, each village presented land to the project for the establishment of community-based medicinal plant gardens. This land included school grounds, areas of sacred forest and individual home compounds. The willingness of village leaders, traditional healers and birth attendants to contribute their knowledge both of the plants and the means with which to conserve them was a fundamental factor in the success of the project.

BGCI would like to extend our special thanks to the Project Team members – Project Manager George Owusu-Afriyie (Director of Aburi Botanic Gardens), Project Coordinator Theophilus Agbovie (Curator of Aburi Botanic Gardens), Nursery Manager William Ofosu-Hene and Nursery Technician O'Rourke Crentsil.

We would also like to make special mention of the body of rangers/gardeners that maintained the medicinal plant garden at Aburi Botanic Gardens. They cleared paths, planted trees, managed the densely forested area and maintained a night and day security watch to protect the trees from illegal felling. The
enthusiasm of both team and rangers has now been channelled into guiding tours of the trail for schools and
local and international visitors.

The project produced a handbook to assist local people to propagate and cultivate medicinal plants in their home gardens (Handbook for the harvesting, preparation and storage of medicinal plants). Special thanks are due to Helen Neave, a fine illustrator who came to Ghana from the U.K. Helen voluntarily contributed her skills to the Handbook. Her drawings remain at the Aburi Botanic Gardens as a lasting treasure and a resource for current educational activities and future educational products.

A thirty-minute educational video in both English and Tri was made of the project which is being used as part of the educational programme.

The future looks bright for the aims of the project. Though initial funding has now finished, the work has catalysed a number of new initiatives to promote medicinal plant conservation. We were fortunate to have a special advisor to the project and Chair to the Project Advisory Committee, Dr Lartey of the Centre for Traditional Medicine at Mampong. Dr Lartey is developing commercial contracts for some of the target threatened species in cultivation to reduce pressure on wild populations.

The opportunity to work again with the people of Adeiso, Konkonorou and Kofisia villages will not be missed and BGCI and Aburi Botanic Gardens have every expectation of collaborating in the future for the conservation of Ghana's rich and diverse flora.

BGCI, the Aburi Botanic Gardens, the Project Advisory Committee and Project Team are extremely grateful to the UK Community Fund (formerly the National Lotteries Charities Board) for providing funding for this project.

Read the summary on the Lottery Fund website