Bringing Plant Conservation to Life
Number 24 - June 2002
J. Marinelli
Introduction
When I lived in Washington, D.C., one of the rituals of municipal life was agonizing over the love life of the giant pandas at the National Zoo. We'd wait apprehensively for a glimpse of Ling-Ling, the resident female in the Panda House, and Hsing-Hsing, her mostly unsuccessful suitor. Was she finally in a family way? Would the species survive? Poor Ling-Ling died suddenly in 1992, but I hear the pandaholics in the U.S. capitol are back in business, with the arrival from China of Mei Xiang and Tian Tian, her significant other.
Our colleagues in the zoo world seem to have the Midas touch. Even the most run of the mill display of extinct reptiles draws stampedes of happy visitors. Some of these dinosaurs have their own web sites, for goshsakes, including Sue, the fossil of a Tyrannosaurus rex purchased at auction for a record sum by the Chicago Field Museum. The plant kingdom certainly has its share of tragedies and suspense stories. Here in the U.S., more than 200 plant species have already gone extinct as a result of human activities. One in every five plants native to this country are declining, threatened, or near extinction. Some of them survive in such small numbers that a bad storm or unscrupulous plant collector could wipe out the entire population in a matter of minutes. According to a resolution passed by the 5 000 botanists who attended the 6th International Botanical Congress held in St. Louis, Missouri, in 1999, two thirds of the plant species on the planet could be gone forever by the end of the century.
Do Displays About Imperiled Plants Have to be Dull?
Garden professionals tend to assume that plants, with the possible exception of a Titan arum in full phallic splendor, are a harder sell than roly-poly pandas. But some gardens have discovered ways to bring plant conservation to life for the public. Their ideas range from the basic (though not necessarily obvious) to the inspired. My informal survey of public garden staff and literature yielded the following lessons, distilled from the most innovative approaches that some gardens are taking.
1. Display the Plants
This seems like a 'no-brainer'. The National Zoo wouldn't be nearly so interesting if visitors were merely force-fed information on the plight of the panda in signs or brochures, without getting an up-close and personal look at Mei Xiang or her beau. Many gardens have in their collections a plant that's in trouble somewhere in the world, whether a cycad from Mexico or a tropical slipper orchid from Southeast Asia. We may grow them, but we don't necessarily show them.
One of the great thrills of my life was finding Amaranthus pumilis growing on a Long Island, New York, beach. Seabeach amaranth is not the kind of plant that's going to win any beauty contests. Still, there was something exciting, shocking even, to suddenly be face to face with one of the rarest species on the planet.
A few gardens are devoting entire areas to endangered species. The most recent addition to New England Wild Flower Society's Garden in the Woods in Framingham, Massachusetts, for example, is the two-acre New England Garden of Rare and Endangered Plants, which opened in 1997. More than 130 of the region's rare plants grow in a variety of suitable areas, from wetlands, to woodlands, to alpine rockfall, and more will be added in the next couple of years. That's already more rare plants than most people could see in a lifetime of field trips.
2. Point Out the Plants
Here's another basic but useful practice: use plant labels to show visitors which plants in your collection are imperiled. One approach is exemplified by the University of California Botanical Garden, famous for its large display of rare and endangered California native plants, as well as 463 rare taxa from other parts of the world. A red vinyl dot on the plant labels distinguishes these rarities from other specimens in the diverse collection of more than 13,000 species. The red dot marks all plants '…that are considered rare, threatened, or endangered by various organizations, including the California Native Plant Society, the state Department of Fish and Game, the U.S. Fish and Wildlife Service, and Botanic Gardens Conservation International' says curator Holly Forbes. The red dot and its significance are explained in the general map brochure for visitors.
3. Tell Their Stories
Ask Americans to name an endangered species and they'll wax eloquent about the plight of the panda or spotted owl. But even ardent gardeners in the U.S., and I suspect elsewhere as well, are often at a loss to name a single imperiled bulb, herb, shrub, or even orchid. This became apparent to staff conducting visitor surveys for the United States Botanic Garden's interpretive master plan. 'Visitors told us they want to hear stories about endangered plants' says Public Programs Coordinator Christine Flanagan. Consequently, during its recent renovation, the botanic garden constructed an Endangered Plant House, which tells the story of species on the verge of extinction, such as the spectacular Haleakala and Mauna Kea silverswords.
A good tear-jerker is always appealing. But we Americans love our villains as much as our victims. Apparently we're not alone; botanic gardens around the world have discovered that the problem of plant invaders has great potential for lively interpretation, and they're beginning to tell the stories of some of these 'bad guys' too. One of the greatest threats to the Australian environment, plant invasion was highlighted in an imaginative childrens' exhibition at the Botanic Gardens of Adelaide. An environmental collage by artist/author Jeannie Baker featured 'The Story of Rosy Dock', about the ecological havoc caused by just one introduced species in the desert region of central Australia. Two garden programs were developed to link with the Rosy Dock exhibit: one was a potted display of local invasive weeds. Each pot was labeled with the plant's name and snippets of information on one or two features that have helped it spread beyond its native range. The second activity was a self-guided Feral Plant Trail through the garden, pointing out olive, fennel, mimosa, and other plants that have invaded natural habitats in Australia. Another effective way to showcase problem species might be to display them 'jailed' in cages to make the point that we must be vigilant to prevent these plants from escaping into natural areas.
4. Be Provocative
We need to stop despairing that plants are no match for pandas on the charisma scale and start using our imaginations. Start thinking giant lianas, such as the one that figures so largely in the childhood fairytale Jack and the Beanstalk or the scary pea pods that play leading roles in the horror film Invasion of the Body Snatchers.
In the Brooklyn Botanic Garden library, there's a display of early-twentieth-century papier-mâché models of plants and plant parts a foot or two high, once used by instructors in BBG's childrens' education program. Larger-than-life acorns pop open to reveal the embryo and other innards. In-your-face flowers such as a garish blue and red fuchsia flaunt their gangly filaments, overripe anthers, and other private parts. Imagine a whole garden of these gizmos; truly huge imperiled pitcher plants digesting unsuspecting insects, or an entire battalion of plant invaders. Mei Xiang and Tian Tian would seem tame by comparison.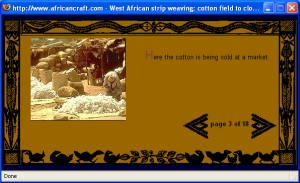 The internet is a great source of ideas. This slideshow
is about weaving cotton, as widely practiced in West Africa.
Courtesy AfricanCraft.com
Another sure-fire approach is to appeal to humanity's finely honed sense of self-interest. One of the all-time favorite tours at the Brooklyn Botanic Garden is 'Ten Plants that Shook the World'. Visitors are invited to imagine life minus magazines, their favorite designer jeans, or fettucini Alfredo. They're reminded that without plants like papyrus, cotton, and wheat, we'd probably still be scribbling on rocks and wearing animal skin togas. And there'd be no such thing as pasta. The message really hits home; word about the guided tour even made the front page of the Wall Street Journal, the prestigious daily newspaper about business.
A number of public gardens have developed ethnobotanical exhibits that stress plant conservation. In Hawaii, a state with only 0.2 percent of the total U.S. land area but more than half of the plants on the U.S. list of endangered species, the Amy B.H. Greenwell Ethnobotanical Garden has a series of handsome signs and a visitor brochure about traditional Hawaiian culture and the plants that support it, as well as plants that may make our lives better in the future. The signs tell the story of plants like the uhiuhi (Caesalpinia kavaiensis), whose hard wood was used to make fine spears and other weapons and tools. They also make the point that, like the uhiuhi, many of the archipelago's endangered plants are native to lowland dry forests, where the human impact has been especially destructive. This is a nice segue into the message that if humans are a big part of the problem, we're also an important part of the solution, with tips on what visitors can do to help save Hawaii's botanical heritage.
As the Amorphophallus titanum proves, a whiff of sex is a guaranteed attention-grabber. In 1995, the University of Oxford Botanic Garden launched an exhibit entitled 'Sex, Drugs, and Botanical Fulfillment'…or why secondary school pupils should visit a botanic garden. In the words of then Education Officer (now Deputy Superintendent) Louise Allen, 'Our experience of the average secondary school pupils' perception of the plant kingdom is one of boring green plants usually found on the kitchen windowsill. We wanted to make "Sex, Drugs, and Botanical Fulfillment" anything but that'. Using strong graphic images: bright fluorescent letters, short, sharp captions, and compelling photos; the exhibit was made up of a series of portable panels, organized into three main sections. The first two focused on the uses of plants in those adolescent obsessions, sex and drugs, pointing out that scientists have documented more than 4,000 plant species that contain human anti-fertility compounds, and that two of our most important forms of contraception, the pill and the condom, were or still are derived from plants. The rest of the exhibit showed how botanic gardens can play an important role in the secondary school curriculum.
5. If You Can't Beat 'em, Join 'em
In the U.S. we have an old saying that goes '…if you can't beat 'em, join 'em'. If all else fails, use animals to publicize the plight of threatened plants. Be shameless, after all, why should we be embarrassed about doing this? One of the great lessons of ecology is that no species exists in a vacuum.
Pollinators have great appeal. For the past few winters, the American Museum of Natural History in New York City has convinced thousands of visitors to brave the cold and snow and come to its Butterfly Conservatory, full of tropical butterflies and favored nectar plants. A major section of the Arizona-Sonora Desert Museum in Tucson, Arizona, is devoted to plants and pollinators. Visitors can make their way from an aviary where seven species of native hummingbirds dart past their heads on their way to their favorite nectar plants, to a garden brimming with milkweeds and other butterfly plants. Down the trail are a planting of white-flowering moth magnets, a cul-de-sac full of plants pollinated by native bees, and a collection of mostly nocturnal-flowering species frequented by bats. Signs in each area tell the story of how plants and their pollinators have coevolved.
In the Soggy Bog area of the Atlanta Botanical Garden's Childrens' Garden, a clever interactive sign featuring cute little creatures, basically giant mouths with bug-eyes on top, teaches kids about pitcher plants and other endangered species in their region. 'These Plants Are Hungry!' - the top of the sign reads. Kids can flip up the mouths to learn how each carnivorous species traps the insects it eats. Beneath the mouths, under the headline 'These Plants Are in Trouble!', they also learn that these plants are imperiled because their habitats have been under assault for decades.
6. Be Positive
Nothing is guaranteed to make the publics' eyes glaze over more than gloom and doom. The best messages I saw accentuate the positive. Don't minimize the looming threat of mass extinction, but be sure to stress what all of us can do in our daily lives to help save species. Tell the story about how your garden or others are collecting the seed of threatened plants, working to increase decimated populations through propagation, and collaborating with government agencies and private preserve managers to reintroduce imperiled species into the wild and restore their habitats. Reintroduction and restoration are profoundly hopeful developments in conservation science.
7. Plan a Party
Our professional insecurities to the contrary, plants can be a major draw. I read recently that the Crested Butte Wildflower Festival in Colorado's Rocky Mountains has gotten so big that organizers have been forced to confront thorny questions about how to manage growth. The one week celebration, of the early-summer explosion of surrounding fields and slopes into a crazy-quilt of colorful wildflowers, began several years ago with a handful of people. Now participants must call weeks in advance to reserve space for hikes, workshops, lectures, and classes on medicinal plants, edible plants, and native plants and ecosystems.
8. Demystify the Science
Cryopreservation, seed banks for endangered species, propagation by tissue culture- this is fascinating stuff. You shouldn't have to be a rocket scientist to understand it. The Center for Research of Endangered Wildlife, the research program of the Cincinnati Zoo and Botanical Garden in the state of Ohio, has transformed its entire research facility into a display for the public. According to CREW's Dr.Valerie Pence, inside, all of the labs were designed with large glass walls so that tour groups walking through the hallway can see the scientists at work. When visitors reach CREW's Public Exhibit space, they can look through windows into the tissue culture incubator room in the plant lab and the greenhouse. The windows are clouded, but when a visitor pushes a button they clear, allowing a glimpse of high-tech conservation science in action. The tissue cultures are right up against the window for easy viewing. To the right of this main room, another space features a window that looks onto the lab that contains the liquid nitrogen storage tanks; the Frozen Garden. Visitors can also try their hands at interactive displays that explore several different lines of research. A volunteer interpreter is on hand as well to help explain the science and technology being used to help save flora and fauna. In the front and on the sides of the building is an Endangered Species Garden, where plants propagated in the laboratory and greenhouse can be observed up close.
Just as inspired is 'Ultimate Treehouses,' an exhibit that entertained and educated visitors at The Dallas Arboretum in Texas during the summer of 1996. This exhibit on the importance of trees as habitats, aimed at 6 to 12 year olds, featured ten imaginative treehouses designed by local groups, as well as interpretive panels, plant displays, habitat scavenger hunts, a childrens' activity book, and follow-up activities to do at home. Instead of droning on about the loss of, say, critical mesic forest habitat, the opening panel, under the heading 'What is a Habitat?,' made the point that 'Every living thing on Earth needs a place to live and call home. Your home provides you with shelter, food, water, and a place to play. Your house or apartment is your habitat, in the same way a hollow tree trunk is the home, or habitat, for a raccoon'. Other panels illustrated the importance of trees to people and wildlife, and how quickly forests are being destroyed.
9. Practice ex situ Interpretation
We're all familiar with the concept of ex situ conservation. Now a few gardens are practicing ex situ interpretation, too. One of the ways New England Wild Flower Society promotes plant conservation beyond the Garden in the Woods is via a traveling museum-quality exhibit on New England habitats. The portable exhibit showcases four regional habitats; alpine, sandplain grassland, woodland, and peatland, and uses photographs, habitat descriptions, and the stories of individual plants to reinforce the importance of plants in sustaining a habitat for humans as well as wildlife. The Society loans out the exhibits free of charge, and they can also be purchased for permanent display.
10. Hire a Wordsmith
Last but not least: if you want to captivate your visitors with spectacular signs with unforgettable slogans, it helps to work with not only a graphic designer but also someone who has a way with words. Here are a few examples of inspired verbiage:

'Biodiversity: The Real World Wide Web'

These words in large type at the top of one of the signs at the Morton Arboretum's Big Rock Visitor Station draw visitors' attention to the surrounding natural area, a woodland that predates European settlement in the Chicago region. The sign goes on to define biodiversity as '…the wide variety of genes, species, and biological communities that live together in a particular place. Just like human communities are enlivened and enriched by diversity, nature's neighborhood needs many different kinds of plants and animals…'.

'Nature's Puzzle: Saving All the Pieces…'

Another neat way to explain the concept of biodiversity, from a sign at Garden in the Woods. An illustration of a woodland pond, complete with plants, fish, bugs, swallows, a raccoon, and other wildlife, is divided into puzzle-shaped pieces. Accompanying text explains how plants are the basis of all life, how '…the water beetle feeds on water plants, and the frog eats the beetle…'. The larger lesson: if one part of the diversity of plant life is lost, we lose a lot more than one piece of the puzzle.

'Why Pollinate? It's How Plants Mate'

Unlike pandas and other large animals, which tend to be drab in the bedroom department, plants display a staggering assortment of sexual techniques. The above heading, on a sign in the series of pollinator gardens at the Arizona-Sonora Desert Museum, explains how the sex life of many plants is dependant upon a third party (a butterfly, hummingbird, moth, or other pollen mover), and how plants use nectar to entice potential intermediaries.

While I'm on the subject of words, it's worth noting that in recent years, some zoos have renamed themselves wildlife conservation centers. This has been in an effort to drive home the point that they are more than just places where visitors can gawk at imperiled lowland gorillas. As thrilling as that is botanic gardens have a similar identity problem. In the words of Johnny Randall, Assistant Director for Conservation at the North Carolina Botanical Garden, 'It's not particularly obvious to the visitor that botanical gardens can be more than display sites'. The Botanic Garden recently erected a new entrance sign that announces North Carolina Botanical Garden-A Conservation Garden. The introduction to the garden's brochure, also entitled A Conservation Garden reads: 'A botanical garden can easily appear to be only a venue for the display of plant collections. However, we hope that this conservation garden proclamation will encourage visitors to discover that botanical gardens in general, and ours in particular, are much more'. The brochure goes on to detail the various ways NCBG is working to save the planet's plants.