Print this Page
Role of St Petersburg Botanic Garden in the Establishment of the Lower Choper Nature Park
Volume 1 Number 1 - July 2004
G.A. Firsov and T.G. Ponomareva
The Lower Choper (Nizhnechopersky) Nature Park was established in March 2003. This is the largest of six parks in the Volgograd region (southern Russia), covering an area of about 186,000 he of the Kumilzhensky, Alexeevsky and Nekhaevsky administrative districts. The Choper (or Khoper) flows into the River Don. It was created to conserve its unique flora and fauna, peculiar landscapes with virgin steppes, chalk denudations (chalk hills, 30-50 m high cut with ravines), floodland and upland forests, sand hills and meadows, and the Cossack way of life at the lower reaches of the Choper river.
St Petersburg Botanic garden of the Komarov Botanical Institute RAS took part in preliminary floristic research (2000-2002) of that area (project 99/50/1 sponsored by Fauna and Flora International (UK non-government organization) to identify rare species and to identify factors threatening the flora.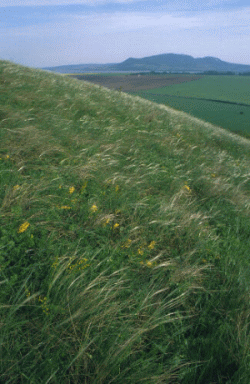 Stipa pulcherrima is threatened
with extinction
As a result 1015 species of vascular plants belonging to 469 genera of 99 families have been identified. 176 species of native flora may be considered rare, 68 have been added to the Red Data Book of Volgograd region and 23 to the Red Data Book of Russia. 12 species are threatened and vulnerable, being threatened with extinction in Russia (Allium regelianum, Bulbocodium versicolor, Stipa pulcherrima). There are endemics of chalkland and sandy areas in the south of the former USSR (e.g. Russia and adjacent areas of Kazakhstan and Ukraine) such as Anchusa popovii, Erysimum cretaceum, Koeleria talievii and Matthiola fragrans. There are even endemics of the Lower Don floristic district (Rosa microdenia). As a result of this research, the habitats and the natural distribution of certain species have been clarified; some were discovered far from the locations cited in the literature e.g. Allium scorodoprasum, Nonea lutea, Utricularia australis and others. Clematis orientalis was an interesting discovery. It was found on chalk hills near Pustovsky village; the only arboreal climber for the whole large area; it represents the northern point of its European natural area. Many well-known European species also occur here at their southern and south-eastern limits (e.g. Comarum palustre, Salix pentandra, Tilia cordata).
Local people may damage certain rare plants because of their highly decorative, medicinal or fruiting properties, but the main threats are in fact ploughing virgin steppe, afforestation of sand and intensive cattle grazing.
As a result of this project St Petersburg Botanic garden was able to increase its living collections. Russia has considerable plant genetic resources which have not been brought into cultivation. The flora of the lower reaches of the Choper river is rich in bulbs, perennials, shrubs and subshrubs which are not in cultivation nor even tested in the St Petersburg or other Russian gardens. This is true for recently described species (Rosa microdenia), but there are also species which have been well-known for a long time by experts on the flora, but unknown by gardeners (e.g. Atriplex verrucifera). Species such as Cerasus fruticosa, Ephedra distachya, Malus praecox are rare in general cultivation. Artemisia salsoloides, Astragalus zingeri, Thymus pallasianus and others appear to be absent in Russian botanic garden.
During the process of floristic field investigation many varieties and forms have been observed. These are Bulbocodium versicolor and Scilla sibirica with white flowers, different flower-coloured forms of Iris pumila and Corydalis solida, fastigiate and dwarf forms of arboreal species etc. Their description and cultivation is the task of forthcoming work.
It is very important to establish a local nursery where rare and threatened species can be propagated and brought into cultivation on a large scale using the advantages of the local conditions of climate and soil. This work is being undertaken by a local farmer and enthusiast Sergei Grishin.
The conservation and education role of the Lower Choper Nature Park is in its early stages. The collaboration between botanic garden experts and local conservationists is critical to protect the area's remarkable biodiversity.
AUTHORS
G.A. Firsov
Botanic Garden of the Komarov Botanical Institute
T.G. Ponomareva
Nizhnechopersky Nature Park