Print this Page
The Oro Verde Botanic Garden at Paraná, Argentina
Volume 2 Number 10 - March 1998
Juan de Dios Muñoz
The Oro Verde Botanic Garden is situated on the campus of the Agricultural Sciences Faculty of the University of Entre Rios, near the city of Paraná, Argentina.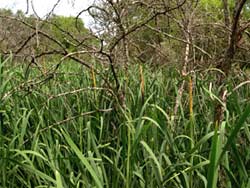 The Province of Entre Rios contains representatives of four different types of vegetation, making it particularly interesting for botanists. Two of these types contain tropical species from the centre and south east of Brazil, another type includes drought-resistant plants from the west of Argentina, and the fourth type includes Patagonian elements, mainly grasses. Owing to this interesting mixture of species, the earliest Flora ever produced in Argentina was written in Entre Rios, by Paul Gunther Lorentz. Paradoxically, no botanic gardens or protected areas had previously been created to preserve this type of vegetation.
In 1994, the students of the Agricultural Science Faculty launched the idea of creating a botanic garden. The original version of this idea was small-scale and impractical, but the concept grew and developed as more and more people came to see it as a model project for the country.
Different groups within the Faculty took part in the design of the Garden. They took advantage of an 11.5 ha area of native woodland within the campus, to enable conservation to be carried out in situ. Trails, fences, stairs and bridges over a winding brook were made, and the main woody species were labelled. A systematic garden is planned in an unforested section of the campus.
A written project plan was submitted by the Garden's director, Ing. Agr. Juan de Dios Munoz, for comment by BGCI. BGCI suggested a revision of the chapter in the plan dealing with marketing, and that a workshop be held at the Garden with experts from Argentina and Britain, mainly to discuss fund-raising strategies, one of the biggest problems that any garden encounters.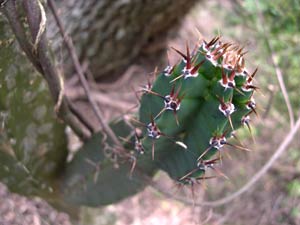 Following these suggestions, thirteen teams of graphic design students from the Architecture Faculty of Buenos Aires University visited and studied the Garden area, in order to undertake the difficult task of creating a corporate image for the Garden. This work covered topics such as designing a logo, stationery, invitations, posters, labels, brochures, calendars, T-shirts, childrens' games, etc. Some of these have already been produced. It was particularly difficult to choose between the many original designs created.
A professor of the Faculty carried out market research in the local area, to estimate the number of primary and secondary schools, as well as the number of their pupils, the social status of the local population, fluctuations and preferences of tourists in the area, and the sort of items to be sold in the Garden's shop.
The next challenge for the project is the construction of the systematic garden, and its outbuildings and facilities. As is to be expected in a well-planned botanic garden, woody species of the main families of economic interest will be planted. We intend to build laboratories, as well as a conference room, a shop, a buffet, and a parking area. We also started to think about such problems as irrigation, lighting and staff salaries.
As advised by BGCI, a workshop was held in the Garden in November 1996, attended by foreign and national guests to discuss fund-raising strategies. The guests included Dr Peter Wyse Jackson (BGCI Secretary General), Kevin Beckett (Director of Education, Westonbirt Arboretum, UK) and Dr Carlos Villamil (Chairman of IUCN's Specialist Group on South American Plants). Their extremely useful advice on achieving goals made it a memorable meeting. Soon after they left, the main foundations they suggested were contacted, and although no funds have been granted yet, fund-raising work continues.
Environmental education is one of the main goals in present-day botanic gardens. We cannot expect plants to be conserved without a corresponding process of raising peoples' awareness. To start developing this activity, a group of distinguished experts on education was invited to the Oro Verde Botanic Garden in September 1997, where the first Argentine course on Environmental Education in Botanic Gardens was held, attended by a wide range of specialists from the whole country.
Some of the teachers were: Mrs Gail Bromley (Head of Education, Royal Botanic Gardens, Kew), Lic. Edelmira Linares, President of the Latin American and Caribbean Network of Botanic Gardens (UNAM, Mexico), Lic. Juan Manuel L¢pez Ram¡rez (Environmental Education Coordinator, Jard¡n Bot nico Canario "Viera y Clavijo", Canary Islands, Spain), and Dr Carlos Villamil (Chairman of IUCN's Specialist Group on South American Plants). Excellent results and reports were obtained from the first course of its kind ever held in Argentina.
In November 1997, an historic event took place in the botanical community. The first meeting of the Argentine network of botanic gardens was held in the Jard¡n Agrobotanico "Arturo Ragonese" at Castelar, Argentina, to define the regulations of this recently-created association.
Many non-governmental organisations have given advice to the Garden. This has led to substantial achievements in nature conservation. Argentina, along with most other countries of the world, has signed and ratified the 1992 Convention on Biological Diversity, accepting its provisions and agreeing to work towards its goals. To promote its implementation, the country has been divided into five regions, where local workshops are being held to define strategies. The Oro Verde Botanic Garden is participating in this process, and has submitted a declaration signed by all the assistants to the recently-held course on environmental education, urging the implementation of the Convention, mainly to support environmental projects and botanic gardens.

Starting a Botanic Garden
Starting a new botanic garden can be daunting but is a very exciting process. There are so many opportunities for botanic gardens to contribute to society, in a huge variety of ways from poverty alleviation to healthcare and new technology.