Print this Page
Malabar Daffodil Orchid, Ipsea malabarica, on the Verge of Extinction
Volume 2 Number 3 - May 1994
C. Sathish Kumar & P. Pushpangadan
The genus Ipsea comprises two orchid species endemic to southern India and Sri Lanka. Malabar Daffodil Orchid (Ipsea malabarica (Reichenb.f) Hook.f) was forgotten for over a century until its recent rediscovery (Manilal & Sathish-Kumar, 1983).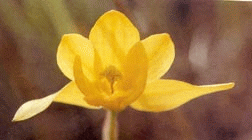 Unlike Sri Lanka Daffodil Orchid (I. speciosa), it is not commercially exploited nor widely cultivated. It is today restricted to a small number of populations of less than a few hundred individuals in three localities in Silent Valley, a remote area of Kerala State in southern India. Although publicity has been given to many of the 1,000 or so species of orchid recorded from India, such as Paphiopedilum druryi, Vanda coerulea, Renanthera imshootiana and Didiciea cunninghamii, by listing them in Appendix I of CITES. Malabar Daffodil Orchid is of particular interest to us.
First discovered by the British ornithologist T.C. Jerdon some 140 years ago in Malabar, this species was described by H.G. Reichenbach in 1864. The type collection is preserved in Reichenbach's herbarium at Vienna, Austria (W). Apart from a mention by J.D. Hooker in his Flora of British India (Hooker, 1890), this species remained largely unknown or forgotten and was thought to be extinct. The many spirited people who saved Silent Valley from submersion under a hydroelectric project unknowingly saved the last refuge of the Malabar Daffodil Orchid. It can still be found in the montane grasslands of Silent Valley, flowering from October to January.
Malabar Daffodil Orchid is a terrestrial orchid up to 45 cm tall, with a small rhizome, a few grass-like leaves and a long scape bearing 1-2 golden-yellow flowers. When it is in full bloom, the grassy fields are resplendent with the golden-yellow flowers and present a memorable sight.
Perhaps this species was once common in Malabar. The large-scale conversion of wild habitats for agriculture and human settlements in the past might have caused the shrinkage of its distribution. As we have been observing this species over the last decade, we are sad to report that, despite the protection accorded by legislation of Silent Valley as a National Park in 1984, the populations of this orchid are on the decline.
Attempts to multiply the species from seeds at our Institute have been successful and we intend to reintroduce seedlings into the native habitats, after completing current studies on its population biology. Fruiting has been observed infrequently and we have not seen any pollinator visiting the flowers. We appeal to the international community to support our efforts to save this orchid from extinction.
Research this plant on the BGCI Plant Search

Read CLONAL PROPAGATION, ENCAPSULATION AND REINTRODUCTION OF IPSEA MALABARICA (REICHB. F.) J. D. HOOK., AN ENDANGERED ORCHID - an article by K.P. Martin

C. Sathish Kumar & P. Pushpangadan
Tropical Botanic Garden & Research Institute
Pacha-Palode
Trivandrum 695 562
India