Seed Banks
Why Do We Have Seed Banks?
The storage of material in the form of seeds is one of the most widespread and valuable ex situ approaches to conservation. Extensive expertise has been developed in this field by agencies and institutions involved with plant genetic resources over the past 30 years. Seed banking has considerable advantages over other methods of ex situ conservation such as ease of storage, economy of space, relatively low labour demands and consequently, the capacity to maintain large samples at an economically viable cost.
Why Store Seeds and Not Whole Plants?
Seeds are a convenient means of long term storage of genetic diversity, as the samples are small in size, are easily handled, require low maintenance and frequently remain viable for long periods. In general, conditions of low temperature and desiccation allow seeds to maintain viability, in many cases indefinitely. Seed banks take up little space, but can be expensive to run, both because of the need to maintain low temperatures and the necessity for germination tests, growth trials and regeneration. They are not suitable for species with recalcitrant seeds.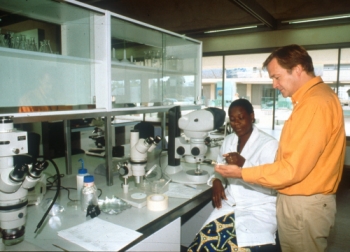 Millennium Seed Bank Lab, © Royal Botanic Gardens, Kew
How are Botanic Gardens Involved?
Botanic gardens in many countries have developed seed banks for the storage of seeds, mainly of wild species. BGCI figures (2015) indicate that there are currently 400 botanic gardens that have seed banks maintaining seeds in long term and medium-term storage.
Several botanic gardens have developed the capacity to store isolated embryos, minute seeds and tissues under conditions of cryopreservation, maintaining samples in liquid nitrogen at temperatures of –196°C. Such techniques offer great potential for the maintenance and conservation of biodiversity, particularly plant species that cannot be stored by conventional means.
Botanic gardens should be aware of the vulnerability of stored material to external factors such as power cuts, civil disturbance, adverse weather conditions and natural disasters.
| | |
| --- | --- |
| Find out more about BGCI's seed banking initiative here | |
For more information please read our BGjournal on Botanic Gardens and Seed Conservation: Making progress towards GSPC Target 8
Also the article by Laliberté, B. (1997), in BGCNews 2 (9):18-23, Botanic garden seed banks/genebanks worldwide, their facilities, collections and networks. You can also read about Setting Up Your Own Seed Bank here.
Seed banks are developed to conserve germplasm at geographical (international, regional, national and local) and taxonomic levels.
1) International Seed Banks
Millennium Seed Bank Project International Programme
The Millennium Seed Bank Project is an international collaborative plant conservation initiative. This worldwide effort aims to safeguard 25% of the world's flora by 2020. It has already successfully secured the future of virtually all the UK's native flowering plants.
2) Regional Seed Banks
Ensconet co-ordinates seed conservation activities of wild plants in Europe. The ENSCONET database can be accessed here.
3) Examples of National Seed Banks
The Millennium Seed Bank Project stores UK flora
The Irish Rare and Threatened Plant Seed Bank, and its Use in the Conservation of Irish Biodiversity
The Seed Bank for Native Plants in Cultivation at the Main Botanical Garden of the Russian Academy of Sciences, Moscow
Rio de Janeiro Botanic Garden's Conservation Unit and Seed Desiccation Tolerance Research
Seed Conservation at the National Botanic Garden of Belgium
The seeds manipulated in the seed bank of the National Botanic Garden of Belgium are collected either in the living collections or from wild plants in Belgium.
The Seed Bank Project at the Geneva Conservatory and Botanical Garden (CJB)
4) Examples of Local Seed Banks
Saving Seeds for the Future - the Seed Bank at Berry Botanic Garden, U.S.A.
The Berry Botanic Garden was set up for the purpose of conserving the rare flora of the Pacific Northwest (Oregon, Washington, Idaho and N California).
The Seed Program at Rancho Santa Ana Botanic Garden
The Seed Program at Rancho Santa Ana Botanic Garden is dedicated exclusively to the State of California and adjacent floristically associated regions.
The Desert Legume Program: Legumes from the World's Dry Lands
The Desert Legume Program (DELEP) began in 1988 as a cooperative project of the University of Arizona College of Agriculture and the Boyce Thompson Southwestern Arboretum..
The Sóller Botanic Garden Seed Bank, Balearic Islands, Spain
The Macaronesian Seed Bank: A programme for rational conservation of plant diversity

The UPM Seed Bank in Madrid (Spain)
The seed bank of the Universidad Politécnica de Madrid (UPM) was created in 1966 and has pioneered seed banking of wild species. Its aim is the long-term ex situ conservation of wild taxa and supply of seed material for basic or applied research. Emphasis is placed on the crucifer family and, since 1973, on rare and endangered species of any family growing in the western Mediterranean area.
5) Example of Taxonomic Seed Banks
The Solanaceae Germplasm Bank at the Botanical Garden of Nijmegen