Resource centre > 4D4Life e-bulletin: Sign Up
4D4Life e-bulletin: Sign Up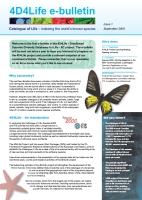 Sign up to 4D4Life e-bulletin to:
Stay up-to-date with news about the project
The e-bulletin is sent out every six months to subscribers.
Simply complete the form below to sign up (* indicates that this information is required):
Click here to visit the 4D4Life e-bulletin archive.
Privacy Information
We use the information you provide about yourself to complete your request for information or to better serve visitors to our website. We do not share this information with outside parties except to the extent necessary to complete your request.
We use return email addresses to answer the email we receive. Such addresses are not used for any other purpose and are not shared with outside parties.
Please read the BGCI Legal Notices for further information regarding our privacy policy.