3GBGC Reports - Congress Summary
Congress Summary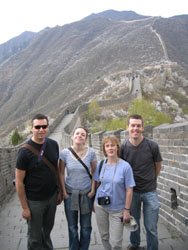 BGCI and FFI staff visit the
Great Wall of China.

For me, the lasting impressions from the congress are of the immense energy and dedication within the botanic gardens world to plant conservation, whether through recording diversity, conducting research, running education programmes, in creating training courses, or developing partnerships. The range of people and projects working on plant conservation is very positive, but at the same time the huge task we face is intimidating. It is only by working together, by making investments into key areas that are currently lacking and sharing best practice from our strengths that we will be able to meet the challenge of plant conservation in the current environmental paradigm.

Highlights of the conference were the networking, meeting new people, hearing about the application of new technologies and techniques, learning about success and progress gardens are making and gaining an understanding of the role of related organisations, such as Plantlife, Flora and Fauna International and CITES. Of course, the acrobats also featured highly!

Sarah Kneebone
Congress Correspondent
BGCI
Wuhan