3GBGC Reports - Friday 20th April
That was the week that was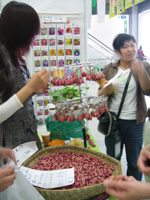 One of the stalls at the congress trade fair
The final day of the congress arrived unexpectedly soon, amid a flurry of checking out, photographs, meetings and exchanges of emails. Professor Vernon Heywood, one of world's most influential botanists, presented on the role of botanic gardens in plant introduction, with both beneficial and negative outcomes looking at the impacts of plant introduction on agriculture and as invasive species. Dr Leng Guan Saw described the advances that have been made in producing species checklists and monitoring of endangered species in South east Asia. The length of time these checklists take to produce is indicative of the rich biodiversity of the region.

Prof Steven Blackmore, Regius Keeper of Royal Botanic Gardens, Edinburgh gave a concise overview of the key role gardens have in the future of plant conservation, in it widest sense. He called on gardens to work together to for positive solutions, identify what they have to offer, think like gardeners and play a variety of roles from an individual to societal level. Ultimately, gardens need to make the most of the communication techniques available to them, keeping their messages personal, positive, entertaining, using all the media available and providing examples of success to engage with audiences and create societal change for sustainable development.

The congress was brought to a close by conclusion covering each theme of the congress.

Tim Entwisle, Royal Botanic Gardens Sydney, presented the achievements, challenges and recommendations for botanic gardens to take forward understanding and documenting plant diversity, including widening national level participation in preparing the world plant list, adopting a pragmatic approach to identify and define threatened species, carry out research and information exchange on the impacts of climate change and strengthen databases to facilitate access to comprehensive information on plants, including location in collections and active conservation programmes.

Suzanne Sharrock, Director of Global Programmes at BGCI, discussed the outputs from symposia on conserving plant diversity. Recommendations included calls for more emphasis to integrating local and science-based knowledge in conservation, the need for good scientific research, including research in horticulture and education to underpin effective conservation, strengthening of partnerships to ensure integrated in situ and ex situ conservation and a greater focus on capacity building for conservation, taking into account local needs and languages Kayri Havens, Institute of Conservation at Chicago Botanic Garden, talked through the outputs focussing on using plant diversity sustainably. To answer the severe challenges of this aim, a series of recommendations were selected, including the need of botanic gardens to:
Focus on supporting sustainable harvesting initiatives - using the guidelines recently developed - and especially working with local communities
Work with CITES to support the new livelihood initiatives within CITES, providing botanical information and expertise
Constantly renew their relevance to society
Inform policy and decision makers about the importance and relevance of their work in conservation and sustainable use, so that new national and international laws create and enabling environment for their work
Li Mei, head of education, Nanjing Botanical Garden Mem. Sun Yat-Sen, provided the feedback on promoting education and awareness about plant diversity. Recommendations for botanic gardens included:
Address some of the key contemporary environmental and social issues, with an emphasis on attitude and behavioural change with the aim of achieving sustainable development

Attract or provide more investment for their education programmes, through targeting policy makers, business leaders and the media, engaging in partnerships and networks, offering capacity building, employing appropriately qualified educators and reaching new audiences, such as eco-tourists
Carry out research and evaluation to determine audiences, tailor programmes to their requirements and ascertain that these requirements are being met.

Address the perceived reduction in plant science education

Maximise training by identifying needs, developing standardized multi-lingual training materials, recognising local issues, needs and resource availability

Ensure that they are fun, exciting, provocative, innovative and relevant places for people to visit and engage with the messages being communicated
Stella Simiyu, BGCI / CBD programme officer for the CBD, added details from the report she is taking to the SBSTTA meeting in July 2007, followed by the COP 9 meeting in 2008. She provided some background to the in-depth review of the GSPC that will be taking place at these meetings. The conclusions from the congress will feed in to the in-depth review.

The full conclusions, with identified achievements, challenges and recommendations are available download from the website.



Sarah Kneebone
Congress Correspondent
BGCI
Wuhan
Read Sarah's other reports from the Congress: Sunday - Monday - Tuesday - Wednesday - Friday - Summary