3GBGC Reports - Thursday 19th April
Building in progress - increasing training and developing sustainable sites

Following the night of festivities, Thursday started with a series of excellent keynote speeches. Prof Ma Keping, the director general of the Institute of Botany within the Chinese Academy of Sciences spoke about the importance of China's biodiversity. The country is home to over 31000 plant species, 52% of which are endemic. CAS has set up a comprehensive on-line herbarium with 2 million specimens and search engines to allow further study of this unique flora. He also outlines the next step in their databasing, with a CD Rom entitled 'Catalogue of Life, China', being produced to include higher plants, vertebrates, some fungi and bacteria. Prof Steven Hopper, the new director of the Royal Botanic Gardens, Kew, followed with an eloquent discussion of the conservation methods needed to protect the biodiversity of ancient landscapes. These landscapes are highly biodiverse, rich in rare local endemics and relicts, they have been buffered from change for such a long time that they are very fragile and vulnerable to disturbance. Because of these characteristics, Prof Hopper argued that different conservation methodologies, such as protecting many, smaller reserves, should be applied.

On a slightly different note, Peggy Olwell from the US bureau of land management discussed the current gap in knowledge in the US botanical field. She called for an increase in capacity building for the next generation of botanists, with gardens providing internships and training courses to support their development and learning. This need for increased capacity building seems to be almost universal, as indicated by other presentations. Later in the day, Colin Clubbe from RBG Kew moderated and presented a session on the need for effective training to meet the conservation challenge. Botanic gardens, such as RBG Kew, National Botanic Gardens of Belgium and RBG Edinburgh, as well as BGCI of course, do currently provide ad hoc training programmes, courses and diplomas, but as yet there is no universal system of training for horticulturalists or botanists. This could be seen as something that botanic gardens work towards as part of the fulfilment of Target 15 of the Global Strategy for Plant conservation.

Two of the education -themed sessions followed the plenaries, discussing communication and collections with the garden and research on botanic garden education. Sheryn Pitman provided a top ten tips run down of designing water wise gardens for the public that gardens can implement and the need to build a healthy and resilient landscape by working with local communities and local builders to respect the native ecology and character of a landscape. The research on plant-based education symposium provided a review by BGCI on the current role and status of education in botanic gardens, the results of which are available to download from the website. Asimina Vergou of the University of Bath presented her initial findings form a PhD on collaborations between local schools and botanic gardens (Wakehurst Place, UK) and Ling Xu discussed her work on using different kinds of environmental images to attract and hold visitors' attention.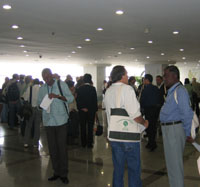 Colleagues renew old friendships and forge new ones.
The poster sessions for the congress have also been going very well. Each day has included a specific time slot for delegates to view posters from the different themes, as well as opportunities to talk to poster authors during lunch and coffee breaks. The posters from the congress will be made available in the congress proceedings in the next couple of months. Anyone who has a PDF of their poster and wishes to ensure it is included in the proceedings should email it to Etelka.leadley@bgci.org as soon as possible.

Two particularly interesting sessions were connected to sustainable
development . Xiaoya Chen of CAS moderated a symposium looking at how botanic gardens can link biodiversity and well-being, with case studies from China, Russia, Jordan and Democratic Republic of Congo. Peter Wyse Jackson, director of National Botanic Gardens of Ireland and ex-secretary General of BGCI, moderated a fascinating session looking at creating a sustainable site for botanic gardens and the importance of gardens practicing what they preach, using peat free compost, reducing water and energy use and ensuring their garden has a strong policy on sustainability.

Needless to say, the last night of the congress saw much last minute socialising and networking. Of course, the BGCI team were hard at work compiling moderators' thoughts from each session to create a summary and conclusions for the congress to present the next morning.
Sarah Kneebone
Congress Correspondent
BGCI
Wuhan
Read Sarah's other reports from the Congress: Sunday - Monday - Tuesday - Wednesday - Friday - Summary