3GBGC Reports - Monday 16th April
Order from Chaos - bringing meaning to plant conservation in today's world

The first full day of the congress dawned bright and sunny with a low haze over the spectacular lake opposite the congress centre in Wuhan. Delegates ushered in to the centre's main hall for the official welcome ceremony and plenaries were taken aback by it's scale. For this official launch, the congress was honoured with speeches from many key people within the Chinese Academy of Sciences, Wuhan city administration, the local and national government.
Baroness Joan Walmsley, chair of BGCI's board of directors, responded with an enthusiastic and gracious speech praising the work of botanic gardens around the world. Sara Oldfield, Secretary General of BGCI, reiterated the importance of botanic gardens in the fight to conserve plant diversity and the importance of the congress as an aid in this struggle.

Fascinating plenaries, from Prof. Peter Raven, director of Missouri Botanic Garden, Dr Jiansheng Jia from the State Forestry Administration and Willem Wijnstekers, Secretary General of CITES, provided an overview of some of the key issues facing plant conservation today and potential solutions. Professor Raven was eloquent in his call to develop a World Plant Data base - a means of consolidating the extensive botanical data held within botanic gardens and other scientific institutions, allowing access by plant scientists and a vital tool for plant conservation. Dr Jia described China's extensive native flora and the threats it faces from development, habitat loss and pollution. China's response to the Global Strategy for Plant Conservation has been developed over the past 4 years and is now being published and implemented to strengthen the conservation of China's biodiversity. Dr Wijnstekkers provided an insight to CITES, its role in the international plant trade, the challenges it faces and the potential to create a system for certification for sustainable harvested and managed wild plants.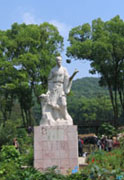 The Medicinal Plant Garden at Wuhan BG

The paper sessions kicked off to a great start - with key conservation issues, policy and conservation programmes being discussed, from the Global Strategy for Plant Conservation to the Millennium Seed Bank and the importance of communicating - both through networking and through engaging students and young people for sustainability. An excellent session on using medicinal plants sustainably was introduced by an overview from Belinda Hawkins of BGCI, looking at the need to prioritise action for medicinal plant conservation - starting with finding out exactly what we are talking about with medicinal plants and then investigating their conservation status. Danna Leaman, from the IUCN SSC Medicinal Plant specialist group, was asking key questions about the medical plants trade, how many species (about 50 - 70, 000), the economic value, the proportion endangered and the proportion wild collected (70 - 90% of the species gathered) provided a cautionary case study with the disappearance of Silphion, an important cure-all from Classical times which vanished. This disappearance she said was possibly due to war and instability of the time - what excuse do we have now for not protecting our medicinal plants?

Further examples of the damage being done by wild collection, in this case of the infamous appetite suppressant Hoodia gordonii, were provided by Ian Oliver of Karoo Desert NBG, South Africa. The illegal collection directly and indirectly damages plants, preventing regrowth and recovery. He said the only solutions were to dramatically restrict, or stop the issuing of certificates for collection and use cultivation only for production. So, what happens when a plant species does become extinct in the wild? Well, if it lucky it will have been collected by some of the gardens which are specialists in reintroduction techniques. These techniques were outlined by Carly Cowell form SANBI, with invaluable hints for practical methods to apply to ensure the preparation of land for reintroduction and growth of new plants.

The South African theme continued in the education section, with a presentation on using interpretation to bring plants to life; in this case theme gardens at Harold Porter NBG, by Berenice Carolus. Here, the use of provocative and relevant interpretation has been used with storyboarding to communicate through a series of gardens looking at water use, useful plants, geological gardens, ecosystems and so on.

Day one down, four to go, if the excellent standard of presentations as seen today is maintained, we are in for a treat and my brain will be full by the end of the week!
Sarah Kneebone
Congress Correspondent
BGCI
Wuhan
Read Sarah's other reports from the Congress: Sunday - Tuesday - Wednesday - Thursday - Friday - Summary